| | | |
| --- | --- | --- |
| | canberrabirds | |
A couple of observations
| | |
| --- | --- |
| To: | "Canberra birds" <> |
| Subject: | A couple of observations |
| From: | "Wallaces" <> |
| Date: | Fri, 22 Aug 2014 18:13:35 +1000 |
A couple of observations from the last 2 days.
Australian Spotted Crake at Crace today. I can only find one other August record (COG and Eremaea) and that was last year.
At Mulligans Flat yesterday Striated Thornbills were in the early stages of nest building and Buff-rumped Thornbills were nearly finished nest building. The Buff-rumped Thronbill nest was the most exposed I have found; on the side of a large tree about 1.4m above the ground and close to one of the main tracks (picture attached).
Steve
Attachment: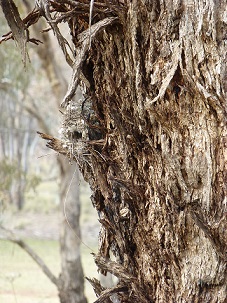 *******************************************************************************************************
This is the email announcement and discussion list of the Canberra 
Ornithologists Group.
Emails posted to the list that exceed 200 kB in size, including attachments, 
will be rejected.
When subscribing or unsubscribing, please insert the word 'Subscribe' or 
'Unsubscribe', as applicable, in the email's subject line.
List-Post: <>
List-Help: <>
List-Unsubscribe: <>
List-Subscribe: <>
List archive: <http://bioacoustics.cse.unsw.edu.au/archives/html/canberrabirds>
List manager: David McDonald, email <>
Admin
The University of NSW School of Computer and Engineering takes no responsibility for the contents of this archive. It is purely a compilation of material sent by many people to the Canberra Ornithologists Group mailing list. It has not been checked for accuracy nor its content verified in any way. If you wish to get material removed from the archive or have other queries about the list contact David McDonald, list manager, phone (02) 6231 8904 or email . If you can not contact David McDonald e-mail Andrew Taylor at this address: andrewt@cse.unsw.EDU.AU