| | | |
| --- | --- | --- |
| | canberrabirds | |
On the Plain
| | |
| --- | --- |
| To: | COG List <> |
| Subject: | On the Plain |
| From: | Martin Butterfield <> |
| Date: | Mon, 18 Aug 2014 13:57:41 +1000 |
Although the weather was somewhat below average - possibly achieving a rating of 'ordinary' -  today I fitted in a bike ride to Pollack Rd on the Hoskinstown plain late in the morning.  Overall I recorded 22 species with the highlights being a juvenile Little Eagle (warmly greeted by every Magpie on the Plain) and some Tree Martins.
The latter seemed a tad early but the
COG Bird Info page
shows that this is returning right on time.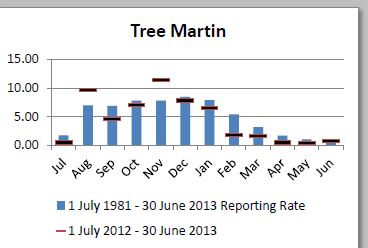 As an aside, after a few days inaction on the nest building front 'my' Tawny Frogmouths added a lot of material to their nest last evening.  If the nest building phase has the usual duration, brooding should start in the next couple of days.
​
Martin Butterfield
<Prev in Thread]
Current Thread
[Next in Thread>

On the Plain, Martin Butterfield <=
Admin
The University of NSW School of Computer and Engineering takes no responsibility for the contents of this archive. It is purely a compilation of material sent by many people to the Canberra Ornithologists Group mailing list. It has not been checked for accuracy nor its content verified in any way. If you wish to get material removed from the archive or have other queries about the list contact David McDonald, list manager, phone (02) 6231 8904 or email . If you can not contact David McDonald e-mail Andrew Taylor at this address: andrewt@cse.unsw.EDU.AU