| | | |
| --- | --- | --- |
| | canberrabirds | |
FW: [canberrabirds] Meanwhile at FSP
| | |
| --- | --- |
| To: | <> |
| Subject: | FW: [canberrabirds] Meanwhile at FSP |
| From: | "Geoffrey Dabb" <> |
| Date: | Thu, 17 Apr 2014 18:30:56 +1000 |
Peter
'FSP' is our usual way of referring to Fyshwick Sewage Ponds. This popular birdwatching venue has been closed to us for well over a year, first for the construction of the new electricity substation and then for reconstruction of the margins of the ponds to avoid erosion from wave action. Our enquiries about just what that will entail have been met with the response that 'rocks' will be used. Now we have an idea of the progress of this long-running project and an indication of what kind of rocky margins we shall see when access is again allowed. When they said 'rocks', they meant rocks. Crake-seekers, for example, will probably be disappointed.
From: Peter Ormay [
Sent: Thursday, 17 April 2014 6:13 PM
To: 'Geoffrey Dabb';
Subject: RE: [canberrabirds] Meanwhile at FSP
Hello Geoffrey, what is FSP? Could you fill me in on the story behind this please?
Peter
The promised rocks are being put in place, and they do look promising. Similar rocks form the margins of the extended groyne at St Kilda pier, where Little Penguins nest in the crevices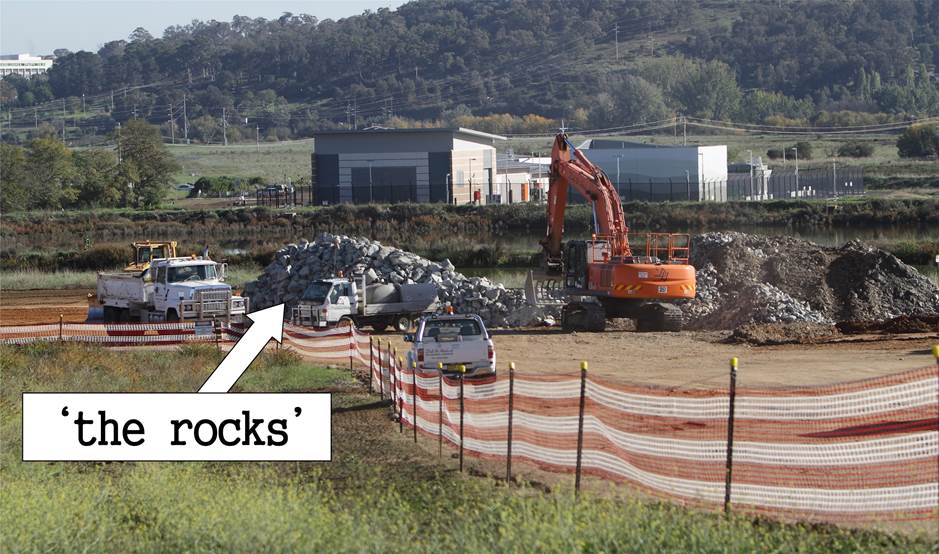 Admin
The University of NSW School of Computer and Engineering takes no responsibility for the contents of this archive. It is purely a compilation of material sent by many people to the Canberra Ornithologists Group mailing list. It has not been checked for accuracy nor its content verified in any way. If you wish to get material removed from the archive or have other queries about the list contact David McDonald, list manager, phone (02) 6231 8904 or email . If you can not contact David McDonald e-mail Andrew Taylor at this address: andrewt@cse.unsw.EDU.AU