An interesting little exercise. Here is the graphic in reduced form: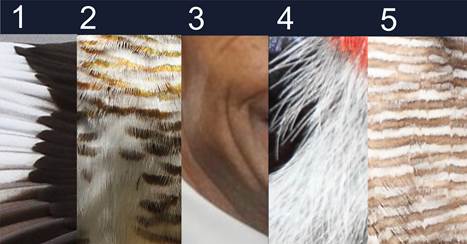 2 was the Shining Bronze-Cuckoo. All the dozen entrants got a B-C of some kind, so count that as a tick for all. 5 was a Brown Goshawk and again all except one got either that or Collared Sparrowhawk (OK). I might have mentioned that all 4 birds were snapped on one day around Canberra, which would have ruled out a "Rufous Owl".
1 was really hard and nobody actually got it with most stabs for White-winged Chough and 2 each for Black Swan and pelican. I should have brought out the brown more, which just might have suggested a cross section of a female Hardhead stretching its wing. 4 wasn't quite so difficult with 4 people getting Mistletoebird.
A range of opinions was expressed about 3, from Bob Rusk's 'dolphin' (maybe too long down at the coast there Bob) to two named COG members. A particularly thoughtful (and close) suggestion was 'Paul Keating' but the truly remarkable one was Anthony Overs' 'Tony Abbott'. I don't know what Anthony does with his spare time, apart from thinking about Rufous Owls, but absolutely correct.
So four people got 3 (Anthony, Philip, Leo and Julian Teh) with Anthony's bonus point putting him just in front (he also did it in twenty minutes with his Iphone)