| | | |
| --- | --- | --- |
| | canberrabirds | |
Bird for ID please
| | |
| --- | --- |
| To: | Margaret Leggoe <>, "" <> |
| Subject: | Bird for ID please |
| From: | Laura Johnson <> |
| Date: | Tue, 8 Apr 2014 00:27:03 +0000 |
Juvenile olive-backed oriole?

---
From:
Margaret Leggoe <>
Sent:
Tuesday, 8 April 2014 10:04 AM
To:
Subject:
[canberrabirds] Bird for ID please
Dear folk,
At first I thought this distant bird was a starling, and took little notice, but then it looked somehow different. Autofocus could not cope with all the leaves around, and as I reached for the manual focus switch it flew off. Ah well, such is the lot of bird photographers.
Is it a juvenile starling? The striations/speckles seem too definite a pattern for a starling to me.
Callum Brae, 1st April 2014.
Many thanks
Margaret Leggoe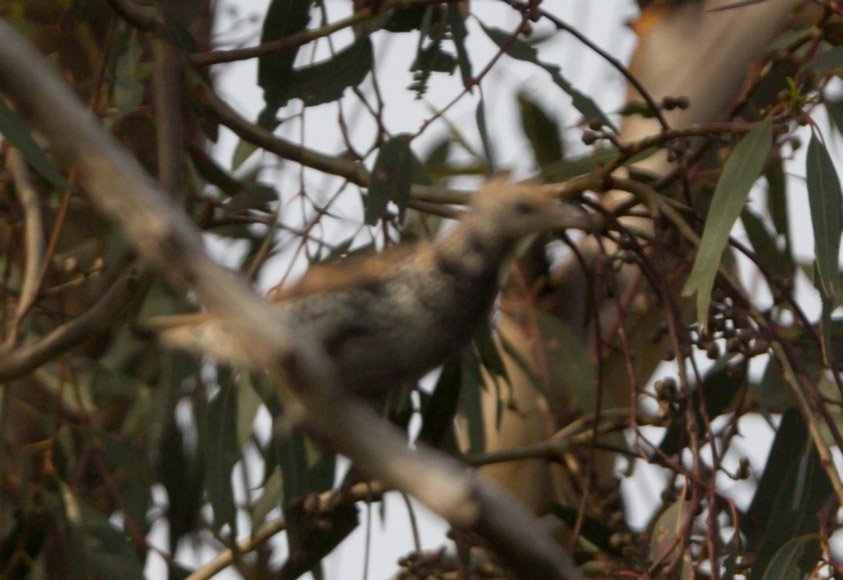 Admin
The University of NSW School of Computer and Engineering takes no responsibility for the contents of this archive. It is purely a compilation of material sent by many people to the Canberra Ornithologists Group mailing list. It has not been checked for accuracy nor its content verified in any way. If you wish to get material removed from the archive or have other queries about the list contact David McDonald, list manager, phone (02) 6231 8904 or email . If you can not contact David McDonald e-mail Andrew Taylor at this address: andrewt@cse.unsw.EDU.AU