| | | |
| --- | --- | --- |
| | canberrabirds | |
grasshopper image ? [SEC=UNOFFICIAL]
| | |
| --- | --- |
| To: | "'Des Clark-Walker'" <> |
| Subject: | grasshopper image ? [SEC=UNOFFICIAL] |
| From: | "Perkins, Harvey" <> |
| Date: | Mon, 3 Mar 2014 02:16:56 +0000 |
Try Acrida conica
http://www.brisbaneinsects.com/brisbane_grasshoppers/Longheaded.htm
Harvey
Harvey Perkins
From: Des Clark-Walker [
Sent: Monday, 3 March 2014 1:13 PM
To: Canberrabirds List
Subject: [canberrabirds] grasshopper image ?
This photo was taken by my daughter. She is curious to know the type of grasshopper?
I would greatly appreciate any help.
Des Clark-Walker.
From: Roz Clark-Walker <>
Date: 3 March 2014 11:35:11 AM
Subject: smaller grasshopper image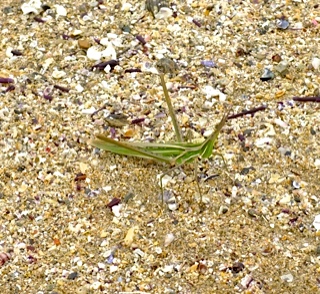 *************************************************************************
The information contained in this e-mail, and any attachments to it,
is intended for the use of the addressee and is confidential.  If you
are not the intended recipient you must not use, disclose, read,
forward, copy or retain any of the information.  If you received this
e-mail in error, please delete it and notify the sender by return
e-mail or telephone.
The Commonwealth does not warrant that any attachments are free
from viruses or any other defects.  You assume all liability for any
loss, damage or other consequences which may arise from opening
or using the attachments.
The security of emails transmitted in an unencrypted environment
cannot be guaranteed. By forwarding or replying to this email, you
acknowledge and accept these risks.
*************************************************************************
<Prev in Thread]
Current Thread
[Next in Thread>

grasshopper image ? [SEC=UNOFFICIAL], Perkins, Harvey <=
Admin
The University of NSW School of Computer and Engineering takes no responsibility for the contents of this archive. It is purely a compilation of material sent by many people to the Canberra Ornithologists Group mailing list. It has not been checked for accuracy nor its content verified in any way. If you wish to get material removed from the archive or have other queries about the list contact David McDonald, list manager, phone (02) 6231 8904 or email . If you can not contact David McDonald e-mail Andrew Taylor at this address: andrewt@cse.unsw.EDU.AU