| | | |
| --- | --- | --- |
| | canberrabirds | |
Wednesday Walk to Queanbeyan STW 19 February
| | |
| --- | --- |
| To: | COG List <>, |
| Subject: | Wednesday Walk to Queanbeyan STW 19 February |
| From: | Martin Butterfield <> |
| Date: | Wed, 12 Feb 2014 06:29:05 +1100 |
This is to confirm arrangements for the walk next week.  We will meet at 8:30 at the corner of Mountain Rd and Nimrod Road outside the gates to the works.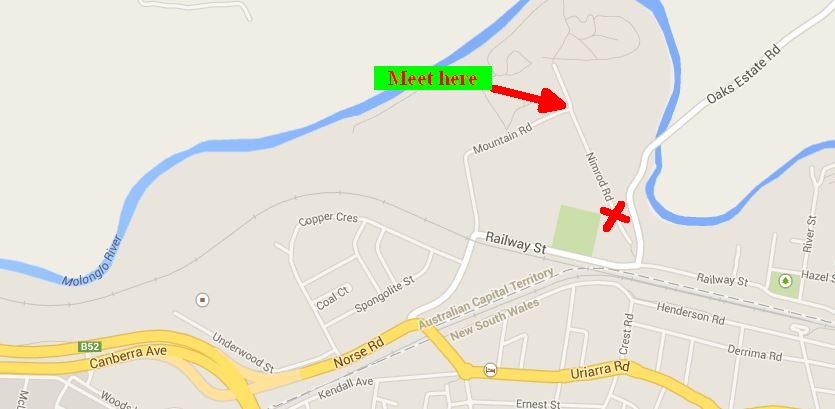 We may be able to park inside the grounds but that depends upon space available due to work going on in the site, and I will check that out on the day.  For OHAS purposes the Council asks that we sign on on their sheet as well as the COG one so we will start by visiting the site office for that purpose.
The birds can be a bit skittish, but we get good views down the ponds so it would be helpful if folk with scopes brought them along.  The weather forecast is for 29C, which will seem cool after recent heat, but the site is exposed so wear a hat and carry water (and drink it!).  
Martin Butterfield
<Prev in Thread]
Current Thread
[Next in Thread>

Wednesday Walk to Queanbeyan STW 19 February, Martin Butterfield <=
Admin
The University of NSW School of Computer and Engineering takes no responsibility for the contents of this archive. It is purely a compilation of material sent by many people to the Canberra Ornithologists Group mailing list. It has not been checked for accuracy nor its content verified in any way. If you wish to get material removed from the archive or have other queries about the list contact David McDonald, list manager, phone (02) 6231 8904 or email . If you can not contact David McDonald e-mail Andrew Taylor at this address: andrewt@cse.unsw.EDU.AU