| | | |
| --- | --- | --- |
| | canberrabirds | |
FW: Red Wattlebird juv?
| | |
| --- | --- |
| To: | "COG_Mailing_List " <> |
| Subject: | FW: Red Wattlebird juv? |
| From: | John Brown <> |
| Date: | Sun, 2 Feb 2014 09:34:53 +0000 |
Thank you all! It is clearly a juv Olive-back oriole! The idea of ait being a juv Red Wattlebird wasn't adding up which is why I posted to the list, but I couldn't think of any alternatives. I hadn't thought of an Oriole since I have only seen them rarely in the ACT, but now that I have looked at various guides that is clearly what it is. I am glad I checked!
John
From: John Brown [
Sent: Sunday, 2 February 2014 8:17 PM
To: COG_Mailing_List
Subject: [canberrabirds] Red Wattlebird juv?
My take on the bird in the attached photos is that it is a juvenile Red Wattlebird. Is that right? Note: no white on face, no sign of wattle, broad heavy stripes on breast but plain white (no yellow) on belly (which rules out a Little Wattlebird of any age?). If it is a juv Red Wattlebird then it's even younger than the juv. illustrated in Simpson and Day which has white face and yellow belly.
I observed it in Cook in the absence of any lorikeets in the usual trees (-35.261512,149.069213) at 6:15pm Saturday 1st Feb, 2014. Several Superb Parrots though, just up the hill a bit.
John
---
John Brown
Attachment:

Description: IMG_0891-2.jpg
Attachment: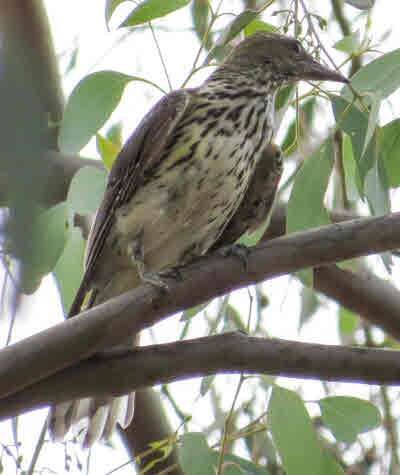 Description: IMG_0893-2.jpg

ATT00001.txt
Description: ATT00001.txt
*******************************************************************************************************
This is the email announcement and discussion list of the Canberra 
Ornithologists Group.
Please ensure that emails posted to the list are less than 100 kB in size.
When subscribing or unsubscribing, please insert the word 'Subscribe' or 
'Unsubscribe', as applicable, in the email's subject line.
List-Post: <>
List-Help: <>
List-Unsubscribe: <>
List-Subscribe: <>
List archive: <http://bioacoustics.cse.unsw.edu.au/archives/html/canberrabirds>
List manager: David McDonald, email <>
Admin
The University of NSW School of Computer and Engineering takes no responsibility for the contents of this archive. It is purely a compilation of material sent by many people to the Canberra Ornithologists Group mailing list. It has not been checked for accuracy nor its content verified in any way. If you wish to get material removed from the archive or have other queries about the list contact David McDonald, list manager, phone (02) 6231 8904 or email . If you can not contact David McDonald e-mail Andrew Taylor at this address: andrewt@cse.unsw.EDU.AU