Marnix - Yes, in the below 1 is a juvenile - rather older than 4 weeks according to the info in HANZAB, and so would yours be if it had 'red eyes and legs'. 2-4 are adults. Bird 4, the presumed parent of 1, has the very bright legs that you see occasionally. The white chin of the juv is quite difficult to see and is just visible on 1 and brought out a little more in the inset in the violet-framed box.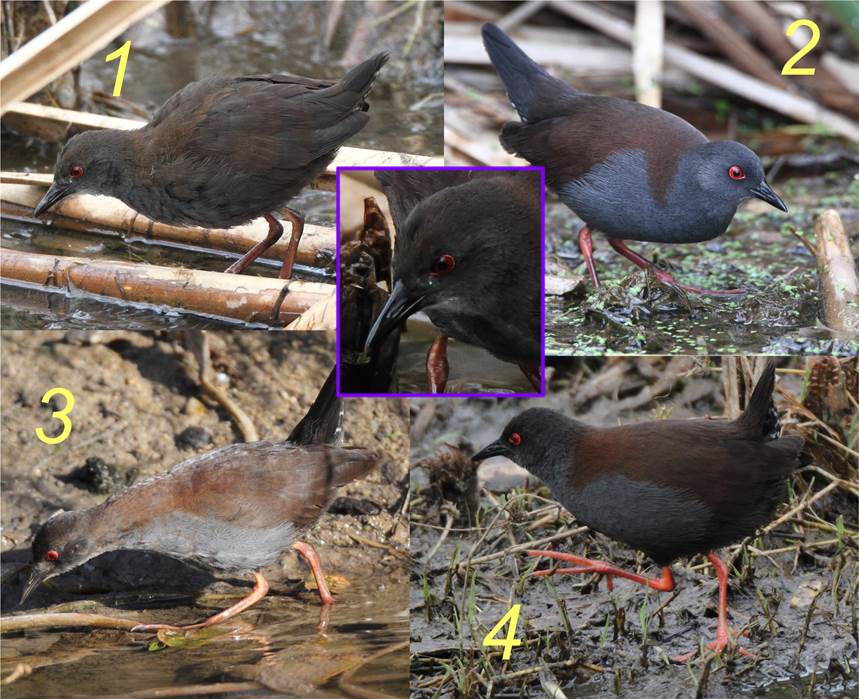 -----Original Message-----
From: Marnix Zwankhuizen [
Sent: Saturday, 18 January 2014 10:16 AM
To: COG
Subject: [canberrabirds] Forde - Crakes, rails etc
Hi All
Seen this morning along the creek under the bridge at the end of my street:
- Spotted Crake (2)
- Spotless Crake (1); sub-adult?: overall dark brown instead of sooty, with white chin, red eyes and legs.
- Buff-banded Rail (1)
Also several Superb Parrots at both Forde and Yerrabi Ponds.
Cheers
Marnix
*******************************************************************************************************
This is the email announcement and discussion list of the Canberra Ornithologists Group.
Please ensure that emails posted to the list are less than 100 kB in size.
When subscribing or unsubscribing, please insert the word 'Subscribe' or 'Unsubscribe', as applicable, in the email's subject line.
List-Post: <m("canberrabirds.org.au","canberrabirds");">>
List-Help: <m("canberrabirds.org.au","canberrabirds-help");">>
List-Unsubscribe: <m("canberrabirds.org.au","canberrabirds-unsubscribe");">>
List-Subscribe: <m("canberrabirds.org.au","canberrabirds-subscribe");">>
List archive: <http://bioacoustics.cse.unsw.edu.au/archives/html/canberrabirds>
List manager: David McDonald, email <m("canberrabirds.org.au","coglists-owner");">>