| | | |
| --- | --- | --- |
| | canberrabirds | |
Re: White-browed Woodswallows
| | |
| --- | --- |
| To: | <> |
| Subject: | Re: White-browed Woodswallows |
| From: | "Leo Berzins" <> |
| Date: | Tue, 7 Jan 2014 18:58:53 +1100 |
Jude reported White-browed Woodswallows vigorously protecting their young on the ground.
I observed the same behaviour last week at Campbell Park and naturally moved on when I realised what the fuss was about.
Passing by the same spot an hour or so later, I observed a very different behaviour. A young W-b Woodswallow (possibly the same one) was motionless on a dead branch at eye level and doing its best Tawny Frogmouth impression. The parents were nearby but kept silent as I moved in a little closer for a quick photo.
Regards,
Leo.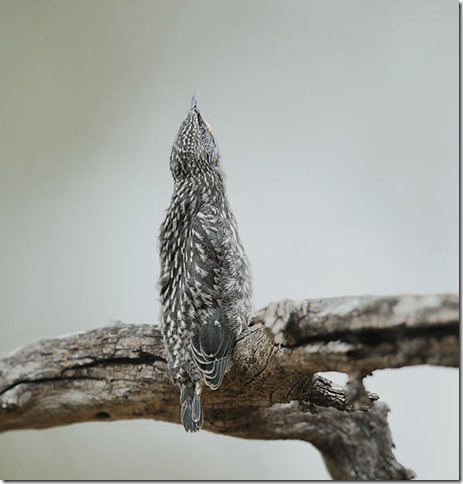 Admin
The University of NSW School of Computer and Engineering takes no responsibility for the contents of this archive. It is purely a compilation of material sent by many people to the Canberra Ornithologists Group mailing list. It has not been checked for accuracy nor its content verified in any way. If you wish to get material removed from the archive or have other queries about the list contact David McDonald, list manager, phone (02) 6231 8904 or email . If you can not contact David McDonald e-mail Andrew Taylor at this address: andrewt@cse.unsw.EDU.AU