Peter ,- Indeed – it was in fact the first insect I ever noted in Canberra; way back in January 1979. I was walking near the Academy of Science towards the ANU at which I was soon to begin my undergraduate studies. Back then, most of that area was still open grassland, and quite dry at that time of year, and the Yellow-winged grasshoppers were everywhere. The next insects I recall was a defoliation of Christmas Beetles on a then very young eucalypt at the comparatively undeveloped ANBG. Interestingly, both these insects were commented on in my new blog.
Cheers,
Harvey
http://hdpphd.blogspot.com.au/
From: Peter Ormay [
Sent: Monday, 6 January 2014 10:11 AM
To: 'Harvey Perkins'; 'Canberra Birds'
Subject: RE: [canberrabirds] not birds ...Googong grasshopper query
These have been a common grasshopper around the Canberra region since forever, at least since the mid '50s. Their yellow wing flashes and clicks as they fly are a typical feature of walking in grassland on hot summer days in the district.
Peter
From: Harvey Perkins
Sent: Sunday, 5 January 2014 9:22 PM
To: Canberra Birds
Subject: Re: [canberrabirds] not birds ...Googong grasshopper query
I agree with Steve that it is a Yellow-winged grasshopper (or locust) Gastrimargus musicus. There were lots of them at Uriarra Crossing yesterday too, sufficient that I included a brief comment about them in just my second posting on my brand new blog which ended up being more about insects than the birds I was looking for.
On 5 January 2014 16:35, Steve Holliday <> wrote:
Hi Robin
Looks like Yellow-winged Locust (Gastrimargus musicus), see http://www.brisbaneinsects.com/brisbane_grasshoppers/YellowWinged.htm
A widespread and common species in eastern and northern Australia. They occasionally occur in plague numbers – this might be a big season for them. They also come in a brown morph.
Steve
From: Robin Hide [
Sent: Sunday, 5 January 2014 3:20 PM
To: Canberra Birds
Subject: [canberrabirds] not birds ...Googong grasshopper query
Yesterday walking along the grassy western foreshore at the northern end of Googong every step saw tens/hundreds of these grasshoppers (about 30-40 mm in length) take dramatically to the air, with a few flying into ones face etc.
Any suggestions re identification?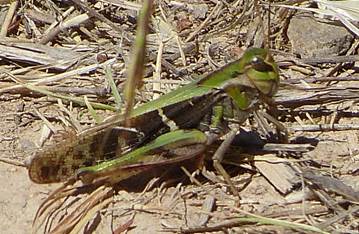 Few birds seen - Pipits, White-faced Herons, and on the water, coots and a few gulls.
Robin Hide
*************************************************************************
The information contained in this e-mail, and any attachments to it,
is intended for the use of the addressee and is confidential.  If you
are not the intended recipient you must not use, disclose, read,
forward, copy or retain any of the information.  If you received this
e-mail in error, please delete it and notify the sender by return
e-mail or telephone.
The Commonwealth does not warrant that any attachments are free
from viruses or any other defects.  You assume all liability for any
loss, damage or other consequences which may arise from opening
or using the attachments.
The security of emails transmitted in an unencrypted environment
cannot be guaranteed. By forwarding or replying to this email, you
acknowledge and accept these risks.
*************************************************************************