I do not know of a clear working definition of 'yellowbox/blakely's red gum grassy woodland' or whether a serious attempt has been made to identify all those bits of it that might exist in south Canberra. When the COG woodland surveys were being set up we were given maps that purported to show areas of YBBRGW in the designated survey areas. These were often small pockets less than 1ha in extent. The map for Callum Brae and Mt Mugga (which I still have somewhere) indicated some areas clearly not YBBRGW – mainly rossii or Red Box. The best area at Callum Brae is within 2-300m of Narrabundah Lane and none of that was indicated.
The area covered by the below map was mostly cleared for grazing in the 1800s. If there are pockets of old trees they would have been ones left standing for stock shelter or some other reason of convenience. Much of the area is now recent regrowth by the more resilient red gum or other species such as E dives (Broad-leaf Peppermint, I think) . The whole vegetation scene is very patchy. The attached map is from memory. No doubt someone better qualified could do something more comprehensive, if paid for it.
Not all the YBBRGW within the below is in a nature park where there would be, I suppose, some kind of assurance of preservation. Some of it is in the quarry lease and the Mugga Mugga rural (grazing) lease. Does anyone know the effect of grazing on regeneration? If they do, I doubt the knowledge is being brought to bear in use conditions. On the other side of Mugga Lane the area stretching over to East O'Malley was intensively sheep-grazed under lease but this was unquestioned until the East O'Malley development was suddenly claimed to be one of the prime examples of YBBRGW in Australia.
For some reason people love to be outraged by development proposals without having taken much interest in the area concerned until the proposal is on the verge of implementation.
Apart from nature-park protection, I suppose use conditions offer some kind of protection against removal of trees. Not all that reliably though. Over the street from here was a site with a dozen mature yellowbox. All were required to be preserved when a medium density housing proposal was approved several years ago. Every one of them has now gone, the removal officially approved after they had been lopped (with approval) into a sad state of disease and disfigurement.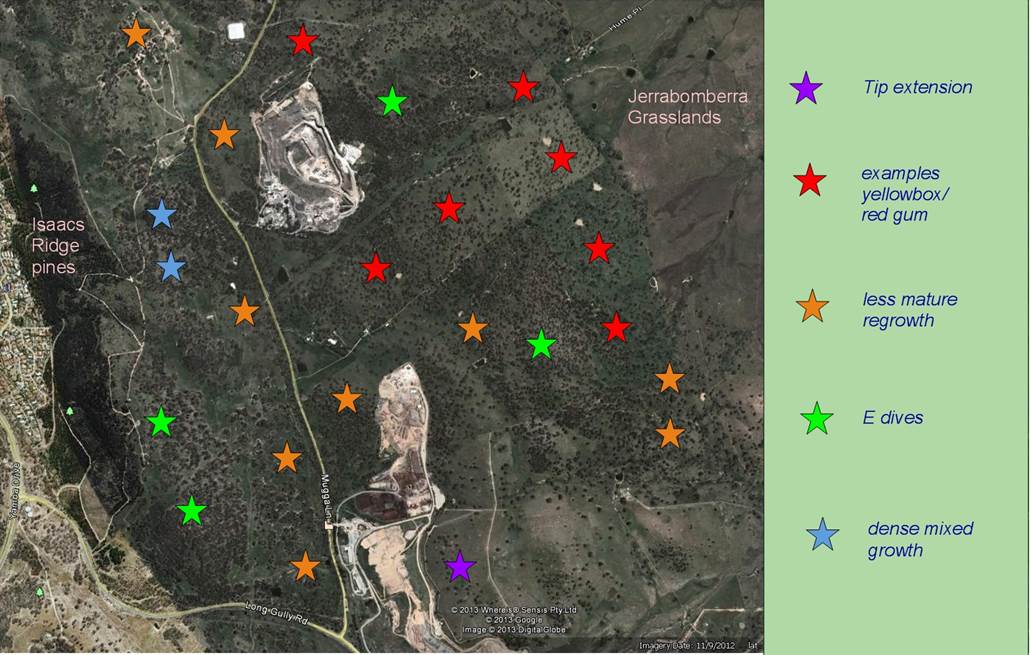 From: Denis Wilson [
Sent: Tuesday, 25 June 2013 12:20 AM
To: Mark Clayton
Cc: Margaret Leggoe; Hastir, Chris;
Subject: Re: [canberrabirds] News
Mark is correct.
Offsets are a totally discredited fallacy.
Everything they claim to be offsetting is in fact a loss to the Environment.


Denis Wilson
Thou shall not steal from future generations by impoverishing or poisoning the Earth.

"The Nature of Robertson"
www.peonyden.blogspot.com.au
On Mon, Jun 24, 2013 at 6:40 PM, Mark Clayton <m("bigpond.com","chollop7");" target="_blank">> wrote:
Like Margaret I'm baffled by this whole thing. Does the term "endangered box-woodland" actually mean anything if you are allowed to destroy it? A little bit here and a little bit there and before long, hey presto we don't have any left so we don't need to worry about conserving it. To say they will conserve a bigger area on ridges, where a hell of a lot of the ACT's nature reserves are already situated is defeating the purpose of declaring the box- gum woodlands on the lowlands which is what the area around the Mugga tip is. I find the whole scenario of so-called "offsets" similar to something that comes out the rear end of a male bovine!
I had seen reference to this before but thanks to Chris Hastir for bringing it to our attention.