| | | |
| --- | --- | --- |
| | canberrabirds | |
Paucity of Crested Pigeons? - Charts of Rock Dove, Spotted Dove
| | |
| --- | --- |
| To: | |
| Subject: | Paucity of Crested Pigeons? - Charts of Rock Dove, Spotted Dove |
| From: | Duncan McCaskill <> |
| Date: | Tue, 28 May 2013 15:31:39 +1000 |
The Spotted Dove is certainly increasing, but its numbers are still fairly low. There were 248 records from 28 sites in the GBS form 2011/12, compared to 2,581 records from 74 sites for Crested Pigeon.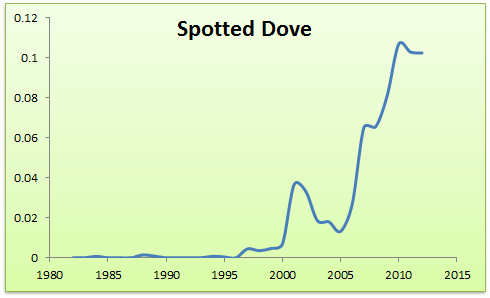 Rock Dove (feral pigeon) numbers appear to be fairly steady but they do bounce around a fair bit. The chart shows Riock Dove "A" value for the whole GBS for the last 31 years, plus the "A" values from 2003 for sites that were in continuous operation for the last 5 years.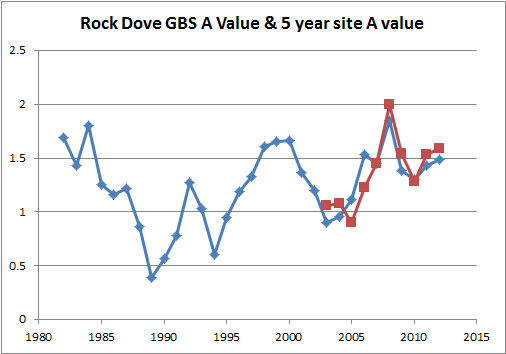 Crested pigeon average group size does show a decline.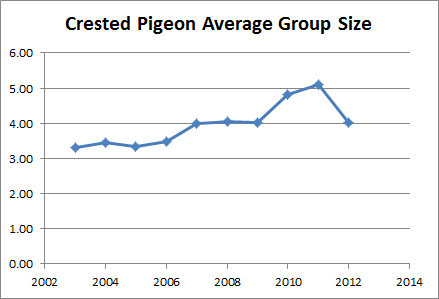 One possible explanation that occurred to me is that the years June 2010 - July 2012 (GBS years are June - July) have been very wet and the Crested Pigeons, being dry land species have found it too wet.
A decline after an exceptional period of growth, caused perhaps by predators or parasites adapting to a newly abundant food source/host also sounds reasonable.
Duncan

<Prev in Thread]
Current Thread
[Next in Thread>

Paucity of Crested Pigeons? - Charts of Rock Dove, Spotted Dove, Duncan McCaskill <=
Admin
The University of NSW School of Computer and Engineering takes no responsibility for the contents of this archive. It is purely a compilation of material sent by many people to the Canberra Ornithologists Group mailing list. It has not been checked for accuracy nor its content verified in any way. If you wish to get material removed from the archive or have other queries about the list contact David McDonald, list manager, phone (02) 6231 8904 or email . If you can not contact David McDonald e-mail Andrew Taylor at this address: andrewt@cse.unsw.EDU.AU