| | | |
| --- | --- | --- |
| | canberrabirds | |
Paucity of Crested Pigeons? - GBS Data from continuous sites
| | |
| --- | --- |
| To: | "'canberra birds'" <> |
| Subject: | Paucity of Crested Pigeons? - GBS Data from continuous sites |
| From: | "Steve Holliday" <> |
| Date: | Tue, 28 May 2013 10:34:59 +1000 |
Hi all
As a former long term resident of Melbourne, I have watched with interest the increase of Crested Pigeons in the urban area there. Each time I visit I seem to see more, when I was a lad they were a rarity south of the Great Dividing Range. This increase has come despite a long-established and very big population of Spotted Doves. I would also note that CPs are the larger of the two by quite a margin.
Cheers
Steve
From: martin butterfield [
Sent: Tuesday, 28 May 2013 8:34 AM
To: Duncan McCaskill
Cc: canberra birds
Subject: Re: [canberrabirds] Paucity of Crested Pigeons? - GBS Data from continuous sites
Duncan
I agree that it looks like a genuine drop, and from your graph yesterday, a widespread one.
Hopefully some of the biologists in this group will be able to suggest reasons for this. The kite I would fly is to note that one of the problems with Spotted Doves invading Alice Springs was their competition with the native pigeon species.
On 27 May 2013 22:42, Duncan McCaskill <> wrote:
Here is another chart showing the Crested Pigeon "A" value from 2003 to 2012.
The red line for the whole GBS. The blue line is restricted to sites that were operating all 5 years before 2012 (from 2008). That is 49 sites from 2008 onwards, but dropping down to only 25 sites for 2003. It looks to me a lot like a real decline.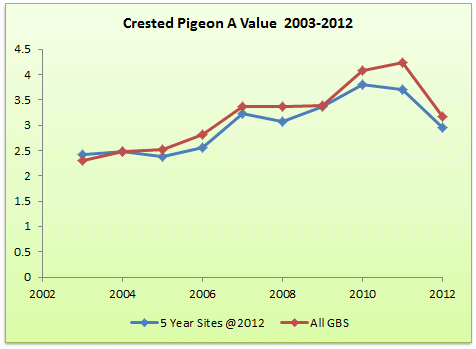 On 27 May 2013 17:25, John Layton <m("bigpond.com","johnlayton2");" target="_blank">> wrote:
As I watched a group of Eastern Rosellas feeding among oak mast not far from home during the weekend, they were joined by a lone Crested Pigeon. It struck me that I've seen very few Crested Pigeons in the vicinity for several months. Certainly none of the large 30 to 40-bird flocks that were prevalent round here previously, and very few smaller groups/flocks. Perhaps this may be because they've spread further afield due to greener pickings since the drought. Has anyone noticed a similar reduction in their numbers?
John K. Layton
Holt.
--
Martin Butterfield
Admin
The University of NSW School of Computer and Engineering takes no responsibility for the contents of this archive. It is purely a compilation of material sent by many people to the Canberra Ornithologists Group mailing list. It has not been checked for accuracy nor its content verified in any way. If you wish to get material removed from the archive or have other queries about the list contact David McDonald, list manager, phone (02) 6231 8904 or email . If you can not contact David McDonald e-mail Andrew Taylor at this address: andrewt@cse.unsw.EDU.AU