A pair have been fairly regularly in/through Corroboree Park the last few days.
On Wednesday, the female was inspecting one of the holes at the top of the rather grim stump (beside the tennis courts) that is all this is left of the magnificent Eucalyptus viminalis that Pryor and Banks described as the "tallest tree in Canberra" (40 m high and 3.8 m gbh) in their Trees and Shrubs in Canberra (1991,p. 190).
Others also seen/heard on the w slopes of Mt Ainslie recently.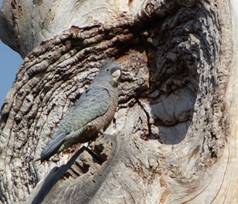 Robin Hide
From: Julian Robinson [
Sent: Friday, 3 May 2013 9:20 AM


I'm not sure who's watching/counting Canberra Gang-gangs but there were ten in Forest on Canberra Ave this morning.