| | | |
| --- | --- | --- |
| | canberrabirds | |
on courtship display of small birds
| | |
| --- | --- |
| To: | <> |
| Subject: | on courtship display of small birds |
| From: | Joanne Kinsella <> |
| Date: | Thu, 16 Aug 2012 09:57:09 +1000 |
Spectacular photos, Margaret. Thanks for sending around.
Joanne
---
From:
To:
Date: Thu, 16 Aug 2012 08:33:30 +1000
Subject: [canberrabirds] on courtship display of small birds
Last January I was being entertained by a pair of superb fairy-wrens with a delightful courtship display. I was hoping the entertainment would continue unabated, but sadly another, less inconspicuous, human came by and the show was abruptly terminated.
Amazing the things you see from the concealment of a hide.
Margaret Leggoe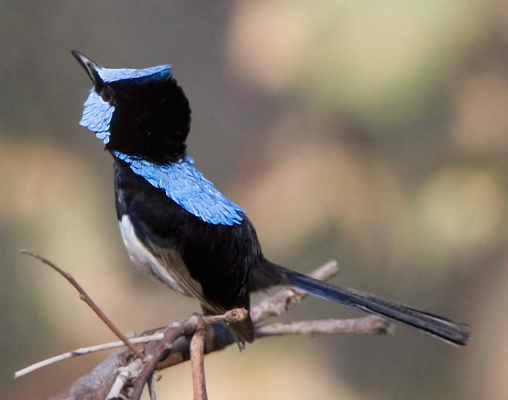 Admin
The University of NSW School of Computer and Engineering takes no responsibility for the contents of this archive. It is purely a compilation of material sent by many people to the Canberra Ornithologists Group mailing list. It has not been checked for accuracy nor its content verified in any way. If you wish to get material removed from the archive or have other queries about the list contact David McDonald, list manager, phone (02) 6231 8904 or email . If you can not contact David McDonald e-mail Andrew Taylor at this address: andrewt@cse.unsw.EDU.AU