| | | |
| --- | --- | --- |
| | canberrabirds | |
Winter Birds week 7
| | |
| --- | --- |
| To: | <>, "Alison Russell-French" <>, "Roger Curnow" <>, <> |
| Subject: | Winter Birds week 7 |
| From: | "Geoffrey Dabb" <> |
| Date: | Wed, 25 Jul 2012 14:30:04 +1000 |
Here is the summary for the first 3 weeks of July, with one week to go. Entries show number observed/number of locations. After the end of July I will ask for any new reports for the whole period and check Eremaea for any others, before circulating a final table with comments.
Thanks for contributions so far. I also appreciate totally nil reports, as this gives an idea of the number of observers keeping an eye out. Please send any reports of the 13 listed species to me.
Despite many hours spent around the woodland reserves, my own sightings for the period so far are limited to one Rufous Whistler and one bfcs, both associated with mixed feeding flocks in my (short) street.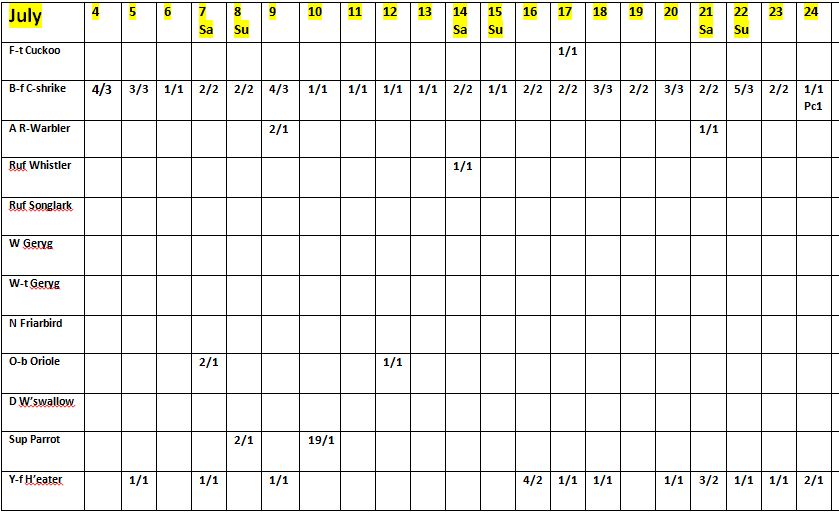 <Prev in Thread]
Current Thread
[Next in Thread>

Winter Birds week 7, Geoffrey Dabb <=
Admin
The University of NSW School of Computer and Engineering takes no responsibility for the contents of this archive. It is purely a compilation of material sent by many people to the Canberra Ornithologists Group mailing list. It has not been checked for accuracy nor its content verified in any way. If you wish to get material removed from the archive or have other queries about the list contact David McDonald, list manager, phone (02) 6231 8904 or email . If you can not contact David McDonald e-mail Andrew Taylor at this address: andrewt@cse.unsw.EDU.AU