Thanks Philip. I don't really know what a facial disk looks like even after looking back at the books and as far as I know have never actually seen a Swamp Harrier except from behind. I was put off by almost complete lack of bars on the 'fingers' and that tail bars are visible only faintly and intermittently (until I saw one of the photos I thought there were none). The illustrations I was gazing at had a marked thin 'collar' underneath that is not visible on mine. Also the face on mine looks pale unlike the images I looked at. And it's true, I didn't realise they soared around at height, though now I see this is written in the field guide L As always, now that it's been pointed out, it looks much closer to the illustration than I'd thought and I'm easily convinced.
Thanks all for the responses, I appreciate it.
From: Philip Veerman [
Sent: Wednesday, 18 July 2012 22:04
To: 'Julian Robinson'; 'canberrabirds chatline'
Subject: RE: [canberrabirds] Raptor ID please
Good analysis and great photos. It is certainly a Swamp Harrier. I'd say it is an adult female. Your analysis as to why it wasn't something else is correct. The harrier facial disk is obvious. The barring of wing and tail feathers is not bold enough for Spotted Harrier, combined with that the primaries are mostly pale. With the diagnostic aspect that the legs are far too long for a Square-tailed Kite (that has very little legs) and several other differences in shape.
Putting almost certain embarrassment aside, I am a little lost as to why you would like to say it is not a Swamp Harrier. Looks pretty standard to me. They don't always fly low (only when hunting) and it can't have been very high to get such good photos.
-----Original Message-----
From: Julian Robinson m("internode.on.net]","julian.robinson");">[
Sent: Wednesday, 18 July 2012 9:24 PM
To: canberrabirds chatline
Subject: [canberrabirds] Raptor ID please
Can somebody put me out of my misery please with this bird seen two days ago at Cambewarra between Nowra and Kangaroo Valley. I can't place it at all. It was soaring up high on almost flat wings when not flapping/flying.
Putting my education above almost certain embarrassment, my thought lines were… Based on distribution and/or appearance, it's not a sparrow/goshawk, falcon, hovering kite or any of our eagles or osprey. It's not a Pacific Baza, BB Buzzard or a Black, Whistling or Brahminy Kite. It's not a Spotted Harrier (or Papuan). This leaves:
- Square-tailed kite
- Swamp Harrier
It does look a bit like the Pizzey illustration of a Female Swamp Harrier but it was flying too high(?) not doing harrier things(?) and the tail barring is wrong (in most photos you can't see the barring on my bird). Also it doesn't have the thin light collar that appears in most illustrations, though it does seem to have the required long legs. It's not a Square-tailed Kite because the wing bars are not strong enough, legs look too long, tail shape might not be square even allowing for moult, the tail barring is wrong and it seems to have yellow legs (though that might be an artifact). That leaves me with nothing, even though I tried to allow for immature birds. Obviously I've missed something and I'd be grateful for some pointing in the right direction.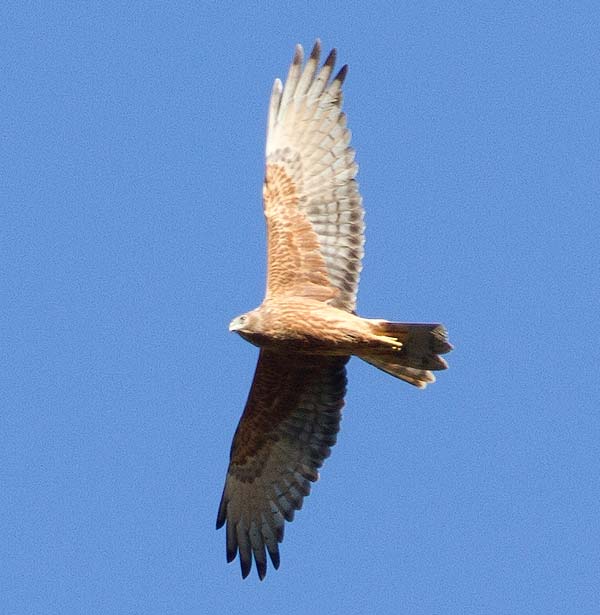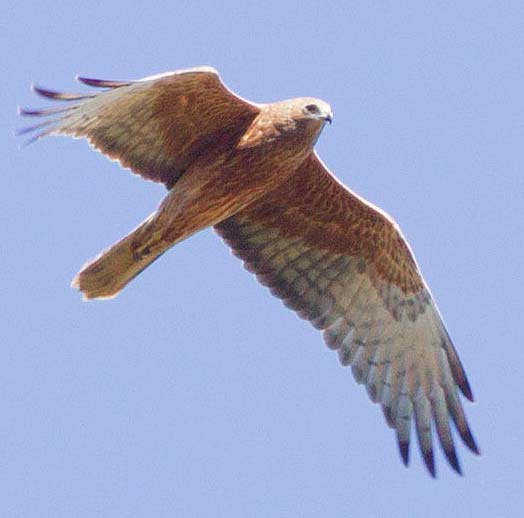 Julian
www.flickr.com/photos/ozjulian/