| | | |
| --- | --- | --- |
| | canberrabirds | |
Mythical white-faced honey-eater and blue sky
| | |
| --- | --- |
| To: | "Philip Veerman" <> |
| Subject: | Mythical white-faced honey-eater and blue sky |
| From: | Robin Eckermann <> |
| Date: | Tue, 28 Jun 2011 16:08:53 +1000 |
At 03:58 PM 28/06/2011, Philip Veerman wrote:

Hi Robin,

Great pictures but what do you mean by White Faced Honeyeater? The scrubwrens always look a little angry. How do you get to photograph one against the blue sky?

Philip

Aaahhh - slip of the fingers. Sorry Philip ... I meant White-Eared Honeyeater.

As to the blue sky (a) I had a "crack of dawn" teleconference with colleagues in the US so didn't get out until well after the fog lifted, (b) it was a lucky shot, and (c) I spent about 15 minutes editing out some unwanted elements.

At the risk of giving away trade secrets, here is a thumbnail of the original, unedited image ...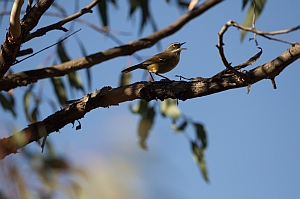 Regards ... Robin
Admin
The University of NSW School of Computer and Engineering takes no responsibility for the contents of this archive. It is purely a compilation of material sent by many people to the Canberra Ornithologists Group mailing list. It has not been checked for accuracy nor its content verified in any way. If you wish to get material removed from the archive or have other queries about the list contact David McDonald, list manager, phone (02) 6231 8904 or email . If you can not contact David McDonald e-mail Andrew Taylor at this address: andrewt@cse.unsw.EDU.AU