Hi everyone,
If anyone has or knows of a dead sparrowhawk in a freezer anywhere I am trying to find one to freeze dry and use in experiments for my PhD… any help would be greatly appreciated…

Thanks,
will
From: Geoffrey Dabb [
Sent: Friday, 10 June 2011 10:32 AM
To: 'canberrabirds'
Subject: RE: [canberrabirds] Collared Sparrowhawk
I would have been disappointed had Philip not revived this interesting topic. The white is the usually-concealed base of the feathers of mantle and scapulars referred to in DI Rogers' description of plumages in HANZAB for both C Sparrowhawk and B Goshawk. As Philip says it is usually only seen when the feathers are ruffled. It seems to be a general characteristic of the genus, although rarely shown in drawings. (I notice that the artist for Handbook of the Birds of the World shows a trace of it for the Shikra, but not for others.) On the other hand it is quite frequently brought to light in photographs.
I agree with Philip that the sparrowhawk seems to show the white more readily. I have looked at hundreds of my photos of the B Goshawk and hardly found a trace of white, except in juv birds. The feathers of the goshawk seem to be harder and less easily ruffled, and perhaps the bird is less inclined to 'puff'. The thousands of photos on the internet are consistent with this although with those there is the problem that the exhibit quite likely does not conform to its label.
Below is a juvenile sparrowhawk photographed a couple of years ago at Bowra. It seems to me that the back feathers are not quite grown out, and seem quite soft in a higher res pic. Roger's photo was of a semi-puffed adult bird. The second photo shows on the right an adult bird from the Bot Gardens. On the left is an adult B Goshawk with the merest trace of pale bases.
I suppose anyone who wants to know more could seek permission to put in an hour or two of feather-ruffling at the CSIRO's collection of specimens.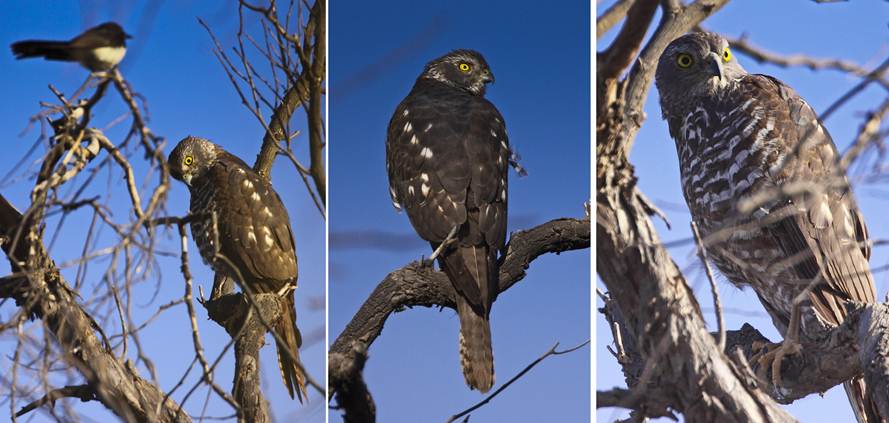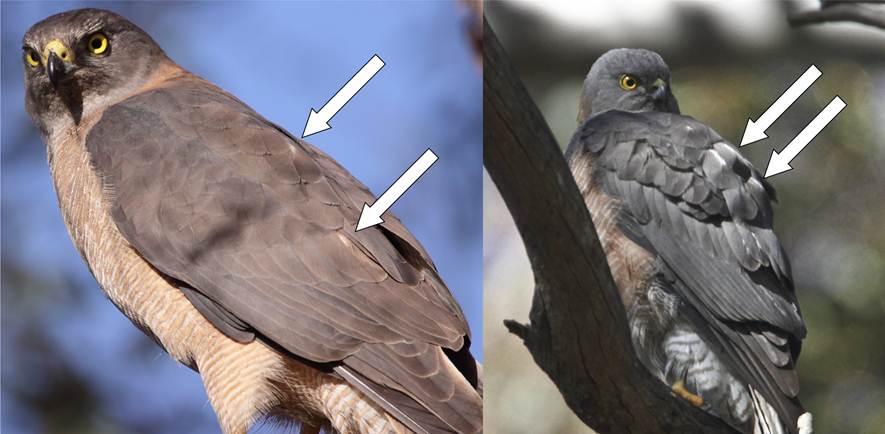 From: Philip Veerman [
Sent: Thursday, 9 June 2011 5:23 PM
To: 'Williams, Roger'; 'canberrabirds'
Subject: [canberrabirds] Collared Sparrowhawk
This photo (apart from being a very nice one) shows something else I would like to comment on. It is one of several photos I have seen of the Collared Sparrowhawk that show very white inner webs to the back feathers. It is not a feature often seen, usually only when the feathers are ruffled. Another accessible example is on page 136 of the Cuppers' book Hawks in Focus. I don't believe I have noticed this in the Brown Goshawk. Is there a unknown difference or just a quirk of what I think I have noticed?
-----Original Message-----From: Williams, Roger m("grapevine.com.au]","rogerwilliams");">[ Sent: Wednesday, 8 June 2011 4:52 PM
To: canberrabirds Subject: [canberrabirds] Collared Sparrow Hawk
This guy has just spent the last hour and a half enjoying a sparrow he caught in our garden in Macgregor,I didn't realize how long it takes for a small Raptor to eat a small bird.