| | | |
| --- | --- | --- |
| | canberrabirds | |
Fwd: [canberrabirds] Butterflies in ANBG
| | |
| --- | --- |
| To: | Canberra Birds <> |
| Subject: | Fwd: [canberrabirds] Butterflies in ANBG |
| From: | Dan & Heather Buchler <> |
| Date: | Tue, 8 Feb 2011 06:32:53 +1100 |
Here is one taken by our son in the ANBG.
Heather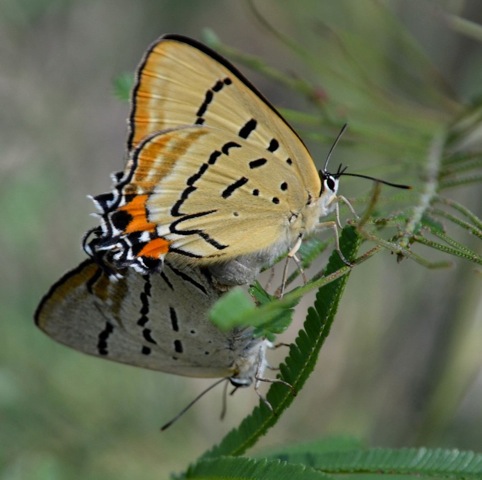 Begin forwarded message:
From: martin butterfield <>

Date: 7 February 2011 9:51:29 PM AEDT

Subject: Re: [canberrabirds] Butterflies in ANBG

Note that the larvae and pupae are now in an Acacia mearnsii ( possibly A decurrens, I have trouble with these two)- NOT A dealbata. Although they are investigated by the imagos the nearest A dealbata are further off the bitumen road.
Martin
On Mon, Jan 31, 2011 at 9:33 AM, Tony Lawson
<>
wrote:
For the many COG lepidopterists:

(T)here is a spectacular colony of Jalmenus evagoras (Imperial Hairstreak) in the Australian National Botanic Gardens at present.

It is at the top of the rainforest gully but up on the southern side beside the upper bitumen road opposite the larger of the two bottle trees which are in Section 120/117.

There are butterflies, ants larvae and pupae in clusters on a small Acacia dealbata.
Admin
The University of NSW School of Computer and Engineering takes no responsibility for the contents of this archive. It is purely a compilation of material sent by many people to the Canberra Ornithologists Group mailing list. It has not been checked for accuracy nor its content verified in any way. If you wish to get material removed from the archive or have other queries about the list contact David McDonald, list manager, phone (02) 6231 8904 or email . If you can not contact David McDonald e-mail Andrew Taylor at this address: andrewt@cse.unsw.EDU.AU