| | | |
| --- | --- | --- |
| | canberrabirds | |
Answers to WOTSITS
| | |
| --- | --- |
| To: | <> |
| Subject: | Answers to WOTSITS |
| From: | "Geoffrey Dabb" <> |
| Date: | Fri, 31 Dec 2010 10:52:23 +1100 |
7 Wotsits from this morning (all Canberra)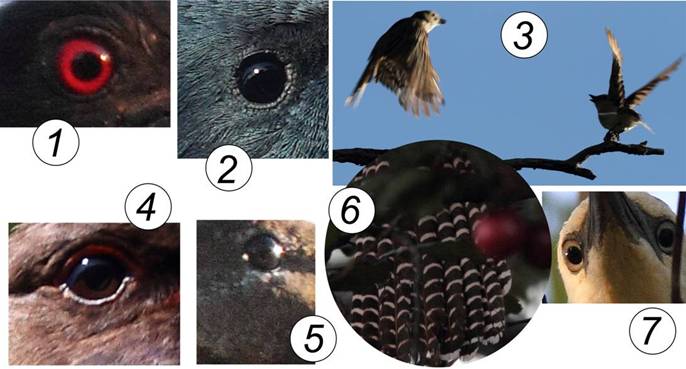 All taken within one hour yesterday morning. 1 and 6 were from my street, male koel, and part of tail of female koel in depths of a prunus tree. Remainder all from Campbell Park.
2 – male Leaden Flycatcher. 3 is quite unfair and shows the ambiguity that can so easily arise in snaps of common birds. A female Rufous Whistler was evicting a Jacky Winter from its perch. Philip did well to essay 'Jacky Winter'. Here are both birds just before the agonism (a useful noun created from 'agonistic', a word much favoured by biologists). When you get used to the word, you will see agonisms everywhere.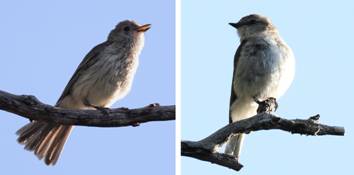 4 – Dollarbird. 5 – A Wood Duck (m). 7 - a White=faced Heron peers down from its nest.
<Prev in Thread]
Current Thread
[Next in Thread>

Answers to WOTSITS, Geoffrey Dabb <=
Admin
The University of NSW School of Computer and Engineering takes no responsibility for the contents of this archive. It is purely a compilation of material sent by many people to the Canberra Ornithologists Group mailing list. It has not been checked for accuracy nor its content verified in any way. If you wish to get material removed from the archive or have other queries about the list contact David McDonald, list manager, phone (02) 6231 8904 or email . If you can not contact David McDonald e-mail Andrew Taylor at this address: andrewt@cse.unsw.EDU.AU