| | | |
| --- | --- | --- |
| | canberrabirds | |
FW: [canberrabirds] More wirra and zhink
| | |
| --- | --- |
| To: | <> |
| Subject: | FW: [canberrabirds] More wirra and zhink |
| From: | "Geoffrey Dabb" <> |
| Date: | Thu, 2 Dec 2010 17:28:11 +1100 |
More of the same this afternoon.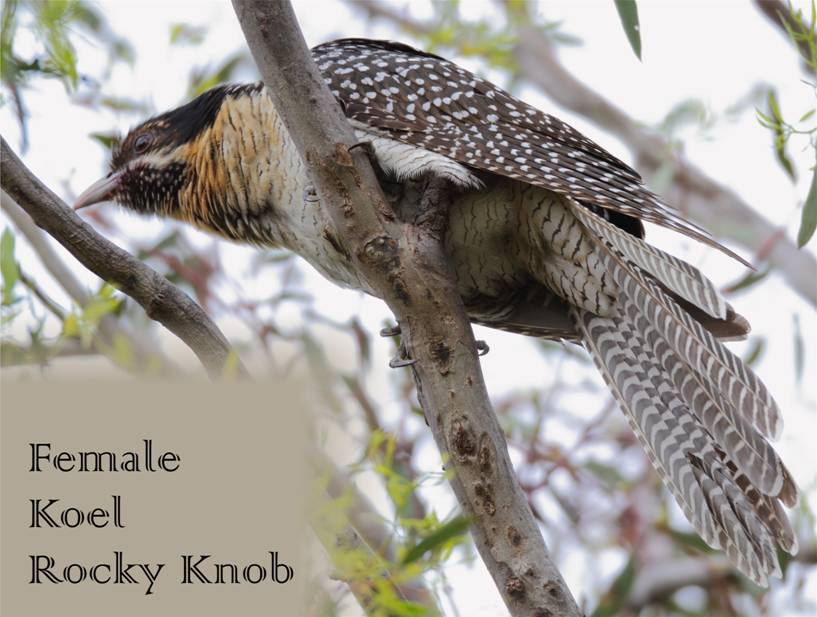 From: Geoffrey Dabb [
Sent: Wednesday, 1 December 2010 7:39 PM
To:
Subject: [canberrabirds] Wirra and zhink
I have mentioned that the Finniss Crescent Mr K is saying 'wirra-wirra' a lot more than 'koel'. There were plenty of 'wirra-wirras' this afternoon, plus a soft 'whirrooo' given in flight, in the small reserve on the south side of Carnegie. Hanzab says the 'Coo-ee', to use the Hanzabese, is given before the female arrives and responds, when 'Whurroo' is given repeatedly and excitedly. A female was flying around today giving a sharp nasal 'zhink' when moved on by the RWBs. I suppose 'zhink' might be what Hanzab calls 'keek'. Either the M or F once gave an arrestingly loud resonant 'wuh-huh-huh', the previous reporting of which, if indeed it has occurred in any of various possible verbalised forms, has not so far been found by me.
<Prev in Thread]
Current Thread
[Next in Thread>

FW: [canberrabirds] More wirra and zhink, Geoffrey Dabb <=
Admin
The University of NSW School of Computer and Engineering takes no responsibility for the contents of this archive. It is purely a compilation of material sent by many people to the Canberra Ornithologists Group mailing list. It has not been checked for accuracy nor its content verified in any way. If you wish to get material removed from the archive or have other queries about the list contact David McDonald, list manager, phone (02) 6231 8904 or email . If you can not contact David McDonald e-mail Andrew Taylor at this address: andrewt@cse.unsw.EDU.AU