| | | |
| --- | --- | --- |
| | canberrabirds | |
re: The use of wires
| | |
| --- | --- |
| To: | "Cog Chatline" <> |
| Subject: | re: The use of wires |
| From: | "Roger Curnow" <> |
| Date: | Wed, 1 Dec 2010 09:39:14 +1100 |
Hi Geoffrey et al
The below is relevant to your recent "use of wires" post.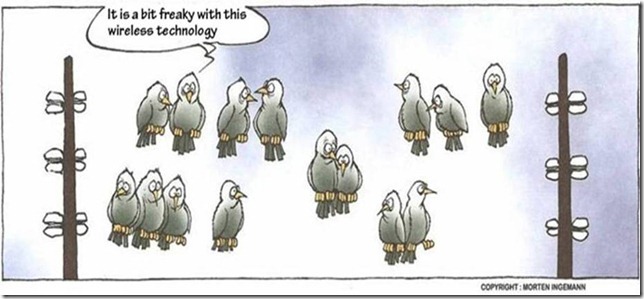 My son sent it to me as we had recently been discussing the future
and in particular where the world was headed with the new wireless technology.
While we were doing this his son was running around the house singing:
Kookaburra sitting on the electric wire
something or rather
something or rather
his pants on fire.
roger
<Prev in Thread]
Current Thread
[Next in Thread>

re: The use of wires, Roger Curnow <=
Admin
The University of NSW School of Computer and Engineering takes no responsibility for the contents of this archive. It is purely a compilation of material sent by many people to the Canberra Ornithologists Group mailing list. It has not been checked for accuracy nor its content verified in any way. If you wish to get material removed from the archive or have other queries about the list contact David McDonald, list manager, phone (02) 6231 8904 or email . If you can not contact David McDonald e-mail Andrew Taylor at this address: andrewt@cse.unsw.EDU.AU