| | | |
| --- | --- | --- |
| | canberrabirds | |
Caching by Australian ravens
| | |
| --- | --- |
| To: | "'Chris Davey'" <> |
| Subject: | Caching by Australian ravens |
| From: | "Geoffrey Dabb" <> |
| Date: | Fri, 16 Apr 2010 10:07:49 +1000 |
Chris - One of most interesting things I've heard in years. Nil return on the pebble-snatching, but Peter might be interested in this scene I came across some time ago. G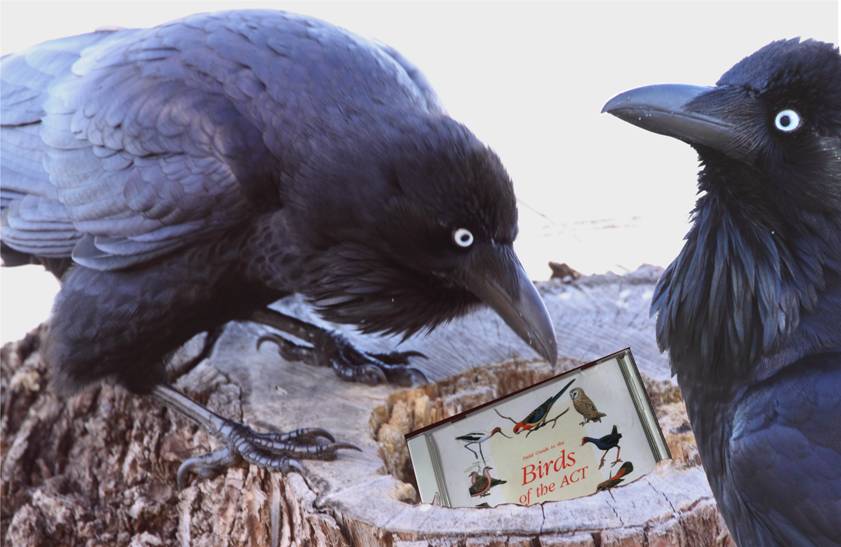 From: Chris Davey [
Sent: Thursday, 15 April 2010 7:51 PM
To:
Cc:
Subject: [canberrabirds] Caching by Australian ravens
Hi, I have been asked by Peter to post the message below. Contact him through the telephone number provided or through his email (see above).
Australian Ravens are known to cache food (see HANZAB vol 7A) but for the past few days a group of ravens has been removing small white pebbles from flowerpots in our garden. We live in Belconnen not far from Townsend Place.
These smooth white stones (used mainly for decorative purposes in our flowerpots) are being removed and most often buried nearby. It seems that it is a family party of ravens that is responsible for this strange behaviour with two adults and four fully grown young birds being the culprits. They have persisted with this tiresome behaviour for several days now and have in that time shifted a remarkably large number of white pebbles - I suspect that well over 50 and probably more like 100 stones have disappeared! I have occasionally seen birds fly off carrying a pebble but I suspect that most stones are cached within a short distance of the house. A brief search located many within 50m of the flowerpots.
Has anyone else seen this sort of behaviour? Not wishing to release a stream of 'ravens-and-golf-balls' anecdotes I would, however, be interested in anything similar to my observations and therefore I thought it worth sharing them with others. I attach some photographs of the cached stones showing two half buried pebbles with a 50 cents coin, a burial site and the pebble at this site after exposure.



--
Peter Fullagar & Helen Topor
1/11 Joy Cummings Place
Belconnen
ACT 2617
Australia

(02) 62 514 672
Admin
The University of NSW School of Computer and Engineering takes no responsibility for the contents of this archive. It is purely a compilation of material sent by many people to the Canberra Ornithologists Group mailing list. It has not been checked for accuracy nor its content verified in any way. If you wish to get material removed from the archive or have other queries about the list contact David McDonald, list manager, phone (02) 6231 8904 or email . If you can not contact David McDonald e-mail Andrew Taylor at this address: andrewt@cse.unsw.EDU.AU