The biennial discussion,eh? Well this will necessarily entail some repetition. Anyone interested should begin with a look at HANZAB vol 5, p726 which summarises the then known position, the account being written with quite a bit of input from COG observers over the years.
It seems to me to be important to distinguish the overall pattern from local streams. These are the Summer and Winter maps from the BA atlas: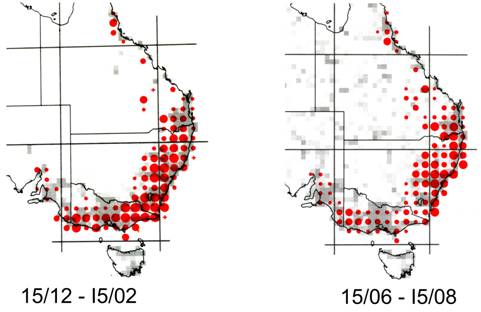 It might be noted many birds remain in winter, or only relocate slightly, across the summer range. Obviously there is partial desertion of the Canberra area, possibly of an altitudinal character. HANZAB cites estimates that at least 20% of the population moves. In crude terms this would be from the area shaded green to the area shaded violet (Winter map shown):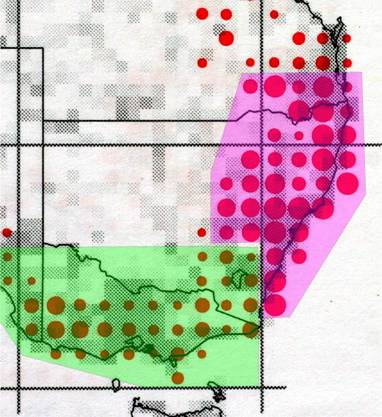 The broad streams may be something like the below, with the main movement being out of the blue ovals, and in particular, for the birds moving through the Canberra area, from the forests of eastern Victoria.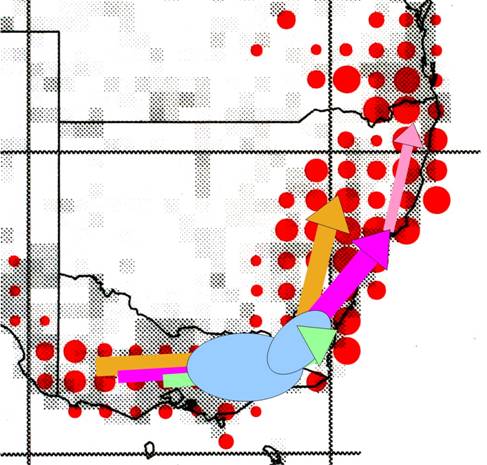 As to the locally observed movements, quite a bit has been published by COG over the years on the usual local routes. Clearly these vary somewhat from year to year. I would think that these would depend from time to time on weather, especially winds, and the availability and need for food. I would be reluctant to draw any conclusions about populations or numbers in overall transit from flock counts. As HANZAB notes, flocks sometimes move on a narrow front and sometimes on a broad front, a factor that would obviously affect the observed numbers.
.
-----Original Message-----
From: Elizabeth Compston [
Sent: Tuesday, 13 April 2010 9:03 PM
To: Canberra Birds
Subject: honey eaters
Great that you are back, Lindsay, to report on honey eaters flying
over your place. So, where are Lindsay's honey eaters coming from?
There have not been many reports of birds flying over S.Canberra. In
fact, not many reports at all. Maybe the birds are flying along
different routes, or maybe they are flying later than usual, despite
the fact that we are past the equinox. Nights are just beginning to
get cooler. Why have they given up on the Murrumbidgee corridor? It
would be good if we could see Geoffrey's map of the routes that he
suggested the birds took, a couple of years ago. (Could you put it
on the chat line , please Geoffrey?)
I believe that thousands of birds, including honey eaters were
killed in last year's fires in Victoria
Any news about the migration along the coast?
Elizabeth
*******************************************************************************************************
This is the email announcement and discussion list of the Canberra Ornithologists Group.
Please ensure that emails posted to the list are less than 100 kb in size.
List-Post: <>
List-Help: <>
List-Unsubscribe: <>
List-Subscribe: <>
List archive: <http://bioacoustics.cse.unsw.edu.au/archives/html/canberrabirds>
List manager: David McDonald, email <>