| | | |
| --- | --- | --- |
| | canberrabirds | |
Help with ID please
| | |
| --- | --- |
| To: | Canberra Birds <> |
| Subject: | Help with ID please |
| From: | Lindell <> |
| Date: | Wed, 29 Jul 2009 17:19:19 +1000 |
Can I have some help in ID-ing this little guy in the upper reaches of the Rainforest Gully in the ANBG today please.
I thought it may have been a juvenile brown thornbill.
Wood Ducks on the move - a family with 7 chicks in tow were seen walking up the driveway and through the outdoor cafe area of the Griffin Hotel in Kingston today.
Also Yellow-tailed Black Cockatoo in the hakea in my driveway over the past few days - a first time for this.
Cheers Lindell
Attachment: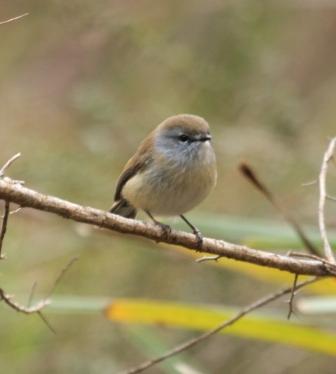 *******************************************************************************************************
This is the email announcement and discussion list of the Canberra 
Ornithologists Group.
List-Post: <>
List-Help: <>
List-Unsubscribe: <>
List-Subscribe: <>
List archive: <http://bioacoustics.cse.unsw.edu.au/archives/html/canberrabirds>
List manager: David McDonald, email 
<>
Admin
The University of NSW School of Computer and Engineering takes no responsibility for the contents of this archive. It is purely a compilation of material sent by many people to the Canberra Ornithologists Group mailing list. It has not been checked for accuracy nor its content verified in any way. If you wish to get material removed from the archive or have other queries about the list contact David McDonald, list manager, phone (02) 6231 8904 or email . If you can not contact David McDonald e-mail Andrew Taylor at this address: andrewt@cse.unsw.EDU.AU