Re the below, Joe has mentioned to me that he recalled Ian Rowley concluding that the behaviour was 'proprietary'. In the HANZAB entry there is indeed quite a full note (p. 115) on 'SCARRING' behaviour – 'on most nest trees'. I shall not reproduce that, but I notice that related behaviour is 'EYE-WIPING'. This was what I saw for about 30 secs - a curious circular motion of the head against the trunk. My observation may be unusual in that it was by the female (does it less) and not quite on the scar itself. 'Scarring and associated behaviours perhaps function as territorial advertisements'.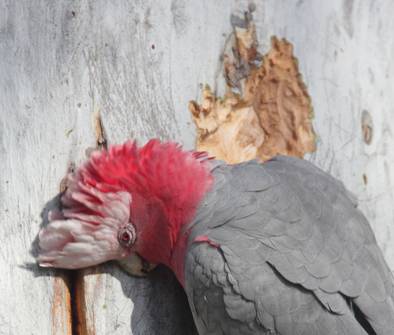 From: Geoffrey Dabb [
Sent: Monday, 13 July 2009 11:55 AM
To: 'Brian Fair'
Cc:
Subject: RE: [canberrabirds] Galahs Chewing Bark
Brian - I should get in that bark-chewing is still food-related, Galahs and other cockatoos attacking the sought-after cambium, and ring-barking is not uncommon. (Joe Forshaw has told me this several times and, if he is listening, would think little of my memory if I failed to mention it.) However I still think that in its very obvious seasonal manifestation it is related to pair behaviour, because it is usually engaged in by paired birds, takes place most often near the present or proposed nest-hollow, and is often accompanied by wing-flexing and head-bobbing. I think the goanna theory is unlikely - you would need a gun-metal finish to deter a goanna and many smooth-barked trees like E mannifera would be more climbable after a bit of chewing than before.
Incidentally, I am told that for the current urban tree-planting program smooth-barked trees are being preferred for fire-hazard-reduction reasons, even the medium-barked Yellow Box being rejected for that reason.
From: Brian Fair [
Sent: Sunday, 12 July 2009 8:12 PM
To: canberrabirds
Subject: [canberrabirds] Galahs Chewing Bark
I am just writing to add some thoughts and observations about Galahs chewing bark. Galahs have been known to ringbark trees with their chewing. They have been known to chew away the bark of trees that they intend on nesting in and one theory is that they do this to stop goannas from steeling the eggs from the nest. They will chew away the bark below where the nest or proposed nest is located. The removal of the bark would make the trunk smoother thereby making it harder for goannas to reach the nests.
This is a theory that my father was told after Galahs had ringbarked a few trees on his property which is located just outside Tamworth. Any thoughts are welcome and I would be interested to hear more about the trees that Galahs have been see chewing in.