| | | |
| --- | --- | --- |
| | canberrabirds | |
a BIG breakfast
| | |
| --- | --- |
| To: | "'Barbara Allan'" <> |
| Subject: | a BIG breakfast |
| From: | "Philip Veerman" <> |
| Date: | Mon, 6 Jul 2009 23:20:17 +1000 |
Nice photo but methinks it is surely a Brown Goshawk. It certainly shows how difficult they can be to pick. Apart from the big talons and big beak, I suggest the plumage pattern is of the intermediate stage, that the Collared Sparrowhawk doesn't have, (roughly striped upper breast and barred lower breast). Also I suggest, just from the picture that the prey is a not likely to be a Galah, as there are no obvious pink feathers. By the light and dark grey, I'd suggest it is a Crested Pigeon. If you saw it close up or have other pictures, I might be shown to be wrong .........
I wonder what others think.
The white spots are pale bases to the feathers, that are normally hidden by the overlying parts of other feathers. Books tend not to show this because they like to show birds in perfect full feathered condition with no moult and no feathers missing.
Philip Veerman
24 Castley Circuit
Kambah ACT 2902
02 - 62314041
Late this morning, a neighbour and the resident magpies alerted me to the presence of a raptor on the ground, devouring what turned out to be a Galah. Juvenile Collared Sparrowhawks turn up in my neck of the woods (Page) most years and have enjoyed, variously, House Sparrows, Crested Pigeon, starling and now a Galah. What surprises me – and perhaps the local raptor experts can enlighten me – all the young sparrowhawks which have visited have a varying number of whitish spots on their backs, a feature not mentioned in any field guide. Is it likely that this is an inherited characteristic and that they are all related? Today's juvenile is perhaps the least spotty of any to date. A good start to the GBS year. b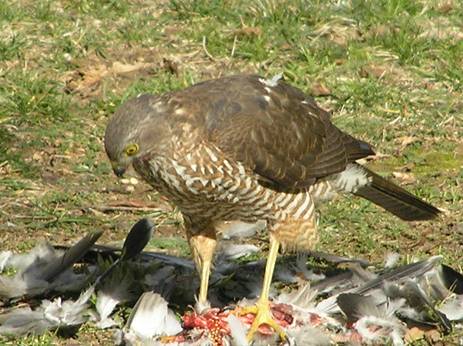 Admin
The University of NSW School of Computer and Engineering takes no responsibility for the contents of this archive. It is purely a compilation of material sent by many people to the Canberra Ornithologists Group mailing list. It has not been checked for accuracy nor its content verified in any way. If you wish to get material removed from the archive or have other queries about the list contact David McDonald, list manager, phone (02) 6231 8904 or email . If you can not contact David McDonald e-mail Andrew Taylor at this address: andrewt@cse.unsw.EDU.AU