| | | |
| --- | --- | --- |
| | canberrabirds | |
Imposter Duck
| | |
| --- | --- |
| To: | "Canberrabirds" <> |
| Subject: | Imposter Duck |
| From: | "Esme Barker and Bruce Ramsay" <> |
| Date: | Tue, 14 Oct 2008 11:59:30 +1100 |
Esme's brother lives at Ballajura in Perth. His house backs on to an ornamental lake area that was part of the development. The lake has open grassy areas on a couple of sides and housing to its edge on the others.
A little while ago a pair of Shelducks made an appearance at the lake, together with 5 small ducklings. These are wild birds and presumably they bred on the lake shore somewhere, although Esme's brother didn't ever see them sitting. The ducklings are growing up and are now moulting into "normal" plumage. As you can see from the below photo, one of them isn't a Shelduck. It is a Wood Duck!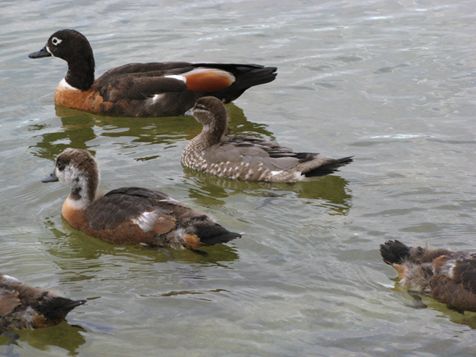 I thought this was interesting enough to post here - I haven't heard of this sort of thing before although I presume it can happen, especially if a very young duckling got separated from its parents and managed to "tag on" to another group of ducklings of a different species and then imprinted on the parents of those ducklings. I suppose its also possible that the Shelducks actually incorporated a Wood Duck egg into their own clutch and then successfully incubated it but I'm rather inclined to think that this is less likely than the "tagged on" explanation. Esme's brother didn't notice any Wood Ducks with any ducklings at any stage - this "imposter" has been with the Shelducks right from the small duckling stage.
Bruce
Admin
The University of NSW School of Computer and Engineering takes no responsibility for the contents of this archive. It is purely a compilation of material sent by many people to the Canberra Ornithologists Group mailing list. It has not been checked for accuracy nor its content verified in any way. If you wish to get material removed from the archive or have other queries about the list contact David McDonald, list manager, phone (02) 6231 8904 or email . If you can not contact David McDonald e-mail Andrew Taylor at this address: andrewt@cse.unsw.EDU.AU