| | | |
| --- | --- | --- |
| | canberrabirds | |
Striated Pardalotes in Ainslie brickwalls
| | |
| --- | --- |
| To: | chat line <> |
| Subject: | Striated Pardalotes in Ainslie brickwalls |
| From: | Robin Hide <> |
| Date: | Wed, 01 Oct 2008 10:57:17 +1000 |
Back on 4 August, Striated Pardalotes were investigating (?) holes in the brickwall of the Koomari Depot (Patterson/Toms Crescent in Ainslie). Only seen entering that hole once or twice since, though they have been continually present in and around Corroboree Park a few metres away.
m("4","m");@@@@5xe" filled="f" stroked="f">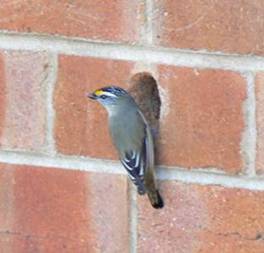 Today, I saw birds entering/leaving a hole in the rear brickwall of the Community Hall in Corroboree Park.

Robin Hide
Admin
The University of NSW School of Computer and Engineering takes no responsibility for the contents of this archive. It is purely a compilation of material sent by many people to the Canberra Ornithologists Group mailing list. It has not been checked for accuracy nor its content verified in any way. If you wish to get material removed from the archive or have other queries about the list contact David McDonald, list manager, phone (02) 6231 8904 or email . If you can not contact David McDonald e-mail Andrew Taylor at this address: andrewt@cse.unsw.EDU.AU