| | | |
| --- | --- | --- |
| | canberrabirds | |
Escapee? LB Corella and Callum Brae obs
| | |
| --- | --- |
| To: | canberrabirds chatline <> |
| Subject: | Escapee? LB Corella and Callum Brae obs |
| From: | Julian Robinson <> |
| Date: | Mon, 22 Sep 2008 19:57:38 +1000 |
Last Friday was a bumper visit to Callum Brae with 52 species in a couple of hours, the most I've seen at CB. Including:

-- 20+ Fuscous HE's (first time I've seen them at CB, inc one young bird with yellow gape).
-- 10+ Brown-headed HE's acting like treecreepers (been there for a week or so; 1st time seen at CB by me)
-- 2-10 each Sittellas, Southern Whitefaces, Speckled Warblers, Red-browed and Double-barred finches.
-- 1 White Ibis calling from a tree
-- 1 Pipit (included bec I haven't seen one there before)
-- many Dusky Woodswallows

Also there was again a pair of Long-billed + Little Corella occupying the same hollow for the third spring running. This time I noticed some kind of band or chain collar on the Long-billed ... given the recurring question as to whether out-of area birds are escapees I was wondering if anyone would know its significance or what it is...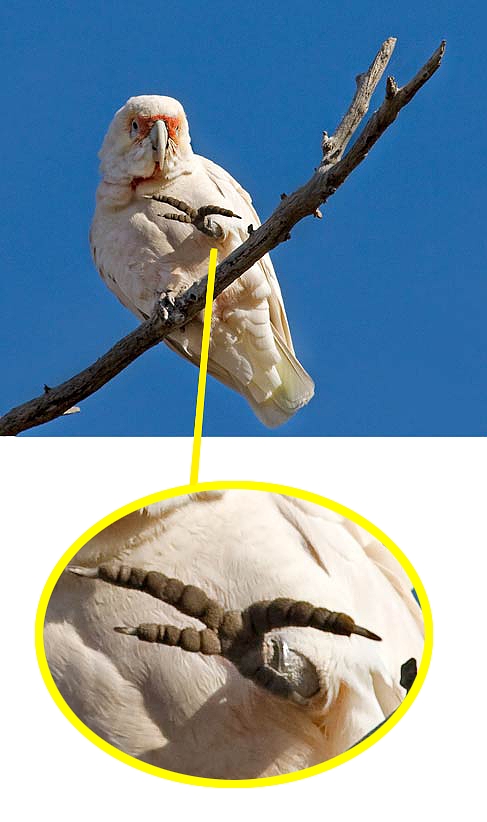 <Prev in Thread]
Current Thread
[Next in Thread>

Escapee? LB Corella and Callum Brae obs, Julian Robinson <=
Admin
The University of NSW School of Computer and Engineering takes no responsibility for the contents of this archive. It is purely a compilation of material sent by many people to the Canberra Ornithologists Group mailing list. It has not been checked for accuracy nor its content verified in any way. If you wish to get material removed from the archive or have other queries about the list contact David McDonald, list manager, phone (02) 6231 8904 or email . If you can not contact David McDonald e-mail Andrew Taylor at this address: andrewt@cse.unsw.EDU.AU