| | | |
| --- | --- | --- |
| | canberrabirds | |
Tidbinbilla Wetlands
| | |
| --- | --- |
| Subject: | Tidbinbilla Wetlands |
| From: | Robin Hide <> |
| Date: | Tue, 26 Aug 2008 08:22:02 +1000 |
At Tidbinbilla, a day later on Sunday, during an hour or so walking on the Fishing Gap Trail, there was constant calling from White-eared Honeyeaters in sight most of the way. A real 'multitude' - interrupted by a Spotted Pardalote pair at one point.
There was a single male Flame Robin near the entrance, and a large flock of Robins in short grasslands/scrub of the Turkey Hill area (just across the road from the Gibraltar Rocks trail)- the male nearest the road appeared to be a Scarlet.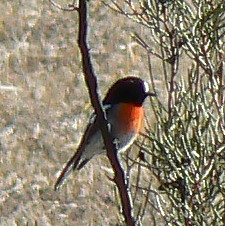 And Marnix's ([canberrabirds] Tidbinbilla - 17 August ) Emu with 4 youngsters was also now in this area, strolling within 10 m of the road, rather than near the entrance as they were the previous weekend.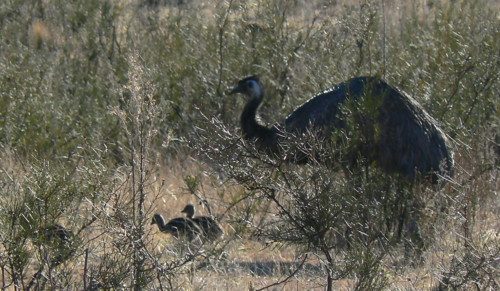 Robin Hide

John Leonard wrote:
Visited Tidbinbilla this afternoon. Notable bird sights were a
multitude of White-eared Honeyeaters and a flock of 20 or so Flame
Robins (all male).


  
Admin
The University of NSW School of Computer and Engineering takes no responsibility for the contents of this archive. It is purely a compilation of material sent by many people to the Canberra Ornithologists Group mailing list. It has not been checked for accuracy nor its content verified in any way. If you wish to get material removed from the archive or have other queries about the list contact David McDonald, list manager, phone (02) 6231 8904 or email . If you can not contact David McDonald e-mail Andrew Taylor at this address: andrewt@cse.unsw.EDU.AU