| | | |
| --- | --- | --- |
| | canberrabirds | |
South Coast wanderings
| | |
| --- | --- |
| To: | COG-L <> |
| Subject: | South Coast wanderings |
| From: | "martin butterfield" <> |
| Date: | Sat, 23 Feb 2008 17:57:23 +1100 |
Frances and I have just spent three very pleasant days based on the Broulee/Moruya area. On the way home Frances asked me for the three best birds of the trip. I think my response was 9 Pacific Golden Plovers at Mystery Bay; a mob (they were a mob not a flock) of 9 Little Egrets rushing aroud the most Easterly part of Corunna Lake and the White-cheeked Honeyeater at Percy Davis Drive. She asked about the Striated Heron in the campground at Congo - drat, I'd overlooked that.
I have now recalled the most interesting bird of the trip which was the pictured immature Australasian Gannet beach-cast at Congo. It seemed somewhat sleepy, but basically OK. As there was no-one else, nor any dogs, on the beach we left it to regather its resourecs. Other goodies were an Eastern Reef Heron at Mystery bay and 4 Pied Cormorants at Broulee. It was also nice to see good numbers of Pied and Sooty Oystercatchers at a range of beaches and at least three White-bellied Sea Eagles.
Large numbers of Eastern Spinebills and New Holland Honeyeaters in Callistemon and Grevillea were also entertaining as always..
Martin
Attachment: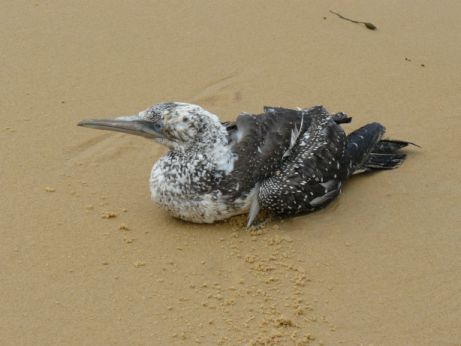 Attachment: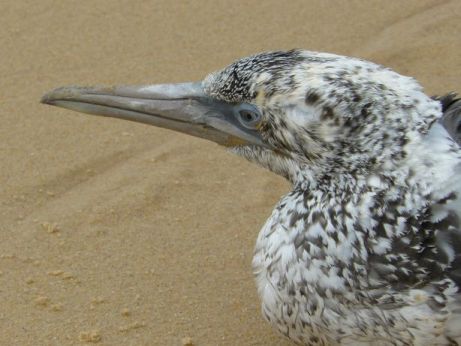 *******************************************************************************************************
This is the email announcement and discussion list of the Canberra 
Ornithologists Group.
List-Post: <>
List-Help: <>
List-Unsubscribe: <>
List-Subscribe: <>
List archive: <http://bioacoustics.cse.unsw.edu.au/archives/html/canberrabirds>
List manager: David McDonald, email 
<>
<Prev in Thread]
Current Thread
[Next in Thread>

South Coast wanderings, martin butterfield <=
Admin
The University of NSW School of Computer and Engineering takes no responsibility for the contents of this archive. It is purely a compilation of material sent by many people to the Canberra Ornithologists Group mailing list. It has not been checked for accuracy nor its content verified in any way. If you wish to get material removed from the archive or have other queries about the list contact David McDonald, list manager, phone (02) 6231 8904 or email . If you can not contact David McDonald e-mail Andrew Taylor at this address: andrewt@cse.unsw.EDU.AU