... west is west (up to a point).  This is a further note prompted by the issuing of C&B2.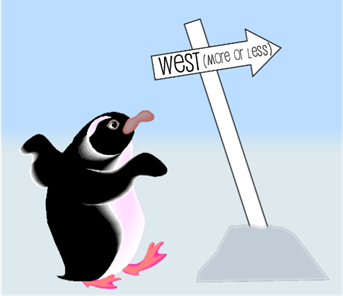 The enclosure sets out all the instances where 'eastern' and 'western' are used in names in the new list.  New English names are marked by an *.  The second column lists the English names recommended in Gill & Wright 2006, where different from the C&B2 name.  The instances where those adjectives refer to Australian distribution do not call for comment. 
I find curious the choice of 'Eastern Koel' over 'Pacific Koel', which had been previously used.  It is true that the distribution extends further west than the Pacific, but it is not in that respect eastern so far as Australia is concerned.  This is the sort of tangle that led to 'Pacific Golden Plover' replacing 'Eastern Golden Plover'.  If the 'more appropriate' game is going to be played to reopen existing names, 'Pacific Baza' should be 'Eastern Baza'.
'Eastern Reef Egret' would seem to depend on there being a 'Western Reef Egret' or at least some other kind of Reef Egret, which is tied up with the debate about the status of subspecies of the Little Egret in Africa and Asia.  The 'Western Reef Egret' E gularis (not in my list) is in the C&B2 supplementary list by virtue of possible obs in Australia (as well as Cocos Is) so some of those were no doubt east of some Eastern Reef Egrets.  Incidentally the Eastern Reef Egret is also the most westerly Reef Egret in the world, as it occurs east of the 180° meridian  -  in both Samoa and the Tuamotus.   
'Eastern Osprey' depends on the splitting off of a subspecies that extends from Java to New Caledonia, so, OK - that would be 'eastern' providing you're using a map with the UK in the middle of it.  Same with the 'Eastern Great Egret', which extends from India to New Zealand.  Much the same with 'Eastern Grass Owl', which is a name that has been around rather longer.
'Eastern Barn Owl' is an English name that in the C&B2 text, along with the taxonomic split, is ventured very tentatively.  Again the Eastern Barn Owls in Samoa and Niue, along with the introduced ones in Hawaii, will be the westernmost Barn Owls in the world.