Re Paul's query on large black butterfly.
It is the Orchard Swallow-tailed Butterfly.
They live on citrus plants in everybody's backyard. Start out as brown and white caterpillars, then develop into the large green caterpillars which can strip a whole stem of leaves over 24 hours.
Then form a green chrysalis. Then out pops those attractive butterflies. Females are duller.
Their display as caterpillars is pretty exciting.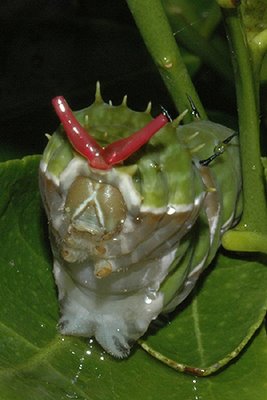 This one reared its head up, and suddenly these red glands ("Osmeteria") everted. I was inclined not to touch it. Apparently their diet of citrus leaves makes them unpalatable to birds anyway.
Cheers
LOVE TO GROW : GROW TO LOVE