| | | |
| --- | --- | --- |
| | canberrabirds | |
One good tern deserves...
| | |
| --- | --- |
| To: | |
| Subject: | One good tern deserves... |
| From: | "Stuart Harris" <> |
| Date: | Wed, 11 Oct 2006 22:57:14 +1000 |
Despite good advice from experienced COG members at tonight's meeting I am yet to be convinced of the identity of some 20 odd Terns that i observed (and photographed) flying and diving gracefully around Fivebough Swamp , near Leeton, last weekend. It was suggested that the birds in the attached pics are indeed White-winged Black Terns, and the behaviour and habitat fit perfectly, as does their size in the field guides though the artwork in both Pizzey and Morcombe does not convince me of the breeding, non-breeding or even juvenile plumage of what I saw. All I can think of is that they are in eclipse plumage at the moment. I have no suggestions to the contrary and would like confirmation of the above suggestion as this would be the second 'lifer' I spotted that day at Fivebough, the other being 2 x Wood Sandpipers (photo ID also) Another highlight at the swamp were at least 100 Glossy Ibis and a host of crakes, rails and raptors.

Thanks
Stuart Harris
HUGHES

"Everything is relative, everything is valid!"


Attachment: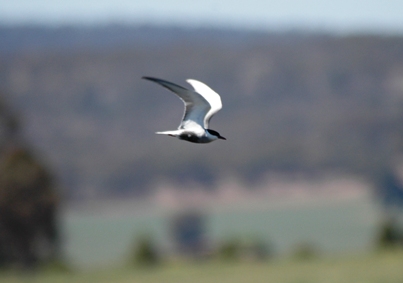 Attachment: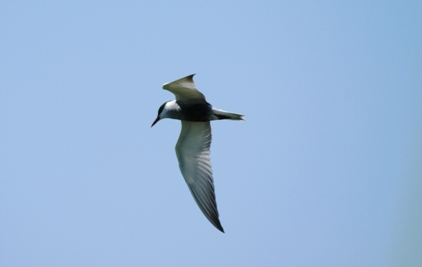 *******************************************************************************************************
This is the email announcement and discussion list of the Canberra 
Ornithologists Group. 
List-Post: <> 
List-Help: <> 
List-Unsubscribe: <> 
List-Subscribe: <>
List archive: <http://bioacoustics.cse.unsw.edu.au/archives/html/canberrabirds>
List manager: David McDonald, phone (02) 6231 8904; email 
<>
Admin
The University of NSW School of Computer and Engineering takes no responsibility for the contents of this archive. It is purely a compilation of material sent by many people to the Canberra Ornithologists Group mailing list. It has not been checked for accuracy nor its content verified in any way. If you wish to get material removed from the archive or have other queries about the list contact David McDonald, list manager, phone (02) 6231 8904 or email . If you can not contact David McDonald e-mail Andrew Taylor at this address: andrewt@cse.unsw.EDU.AU