| | | |
| --- | --- | --- |
| | canberrabirds | |
Little Eagles
| | |
| --- | --- |
| To: | <> |
| Subject: | Little Eagles |
| From: | "Geoffrey Dabb" <> |
| Date: | Fri, 21 Jul 2006 12:10:11 +1000 |
As Ian Fraser said once "I think this list is at its best when …" [Here we may each insert our own preference]
Myself, I think the list is at its best when it accretes information in linear fashion, without too much back-tracking or 'I saw it toos'. A case in point is the Little Eagles. So many people mention having seen one at FSP without advancing what should be a more developed body of knowledge about what is going on with the species locally. I suppose I see one every second visit to FSP, which would be a sighting at least every second week. Sometimes it is circling over the surrounding open country, sometimes using as a vantage point the dead tree just north of the divider between ponds 1 and 2 (see under 'Maps' on COG website).
I have only seen the one bird at a time, always a light morph. I would like to be able to say confidently what sex it is, but without a size comparison I can only say that 'it' seems intermediate between the two.

Steve Holliday

has seen two birds at the one time, both light morphs.

Nobody has reported a definite nest for the FSP LEs. In past years pairs have nested in the Newline paddock, on the northern slope of Mount Mugga, at East O'Malley etc. Apart from the curiosity of list members, it would be of broader interest from the viewpoint of monitoring this possibly declining species to learn of local breeding activity.

Last year David Rosalky drew attention to a possible LE nest above the old Duntroon dairy. This looks like the right size to me. A related report was to the effect that a single LE was seen near that nest during last season (possibly a young from an earlier nesting).

I would look for a nest in a tall euc – either a very tall one or one on a slope with a good view. It would be made from substantial sticks, much larger than used by a magpie, possibly the size of a large raven nest.

Attention could be drawn to the nest by birds carrying sticks or leafy twigs, or birds perched in or circling closely above the nest tree. Typically, passerines will harass LEs even on or near their nest.
With a little practice there is no need for confusion with the local (nesting) Whistling Kites. The light-morph LE has a contrasting dark head and rusty tones in the breast. The LE also has a shorter tail, and when caught by the sun a comparatively large grey-blue bill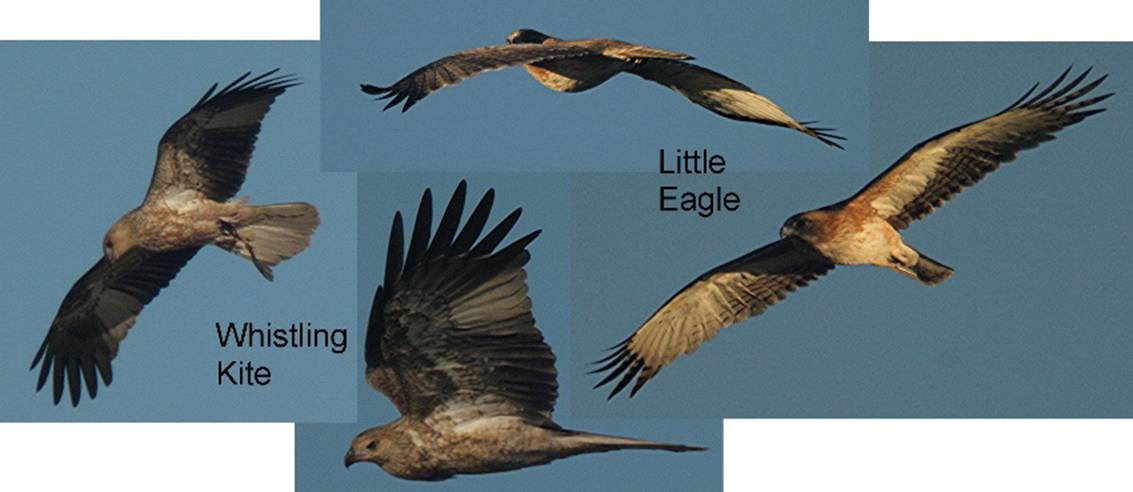 <Prev in Thread]
Current Thread
[Next in Thread>

Little Eagles, Geoffrey Dabb <=
Admin
The University of NSW School of Computer and Engineering takes no responsibility for the contents of this archive. It is purely a compilation of material sent by many people to the Canberra Ornithologists Group mailing list. It has not been checked for accuracy nor its content verified in any way. If you wish to get material removed from the archive or have other queries about the list contact David McDonald, list manager, phone (02) 6231 8904 or email . If you can not contact David McDonald e-mail Andrew Taylor at this address: andrewt@cse.unsw.EDU.AU