| | | |
| --- | --- | --- |
| | canberrabirds | |
anu frogmouths
| | |
| --- | --- |
| To: | |
| Subject: | anu frogmouths |
| From: | Rick Kuhn <> |
| Date: | Wed, 24 Aug 2005 09:25:18 +1000 |
Hi David/Rick

For technical problems that i do not understand I can not post to the chat line at the moment.
So i feel i should tell you guys that the anu-frogmouths are currently (12:00 23rd aug) dispersed.
One is in the nearby wattle tree and the other 20 metres away in a gum tree.
I would guess they will re-group to the original site overnight.

roger curnow.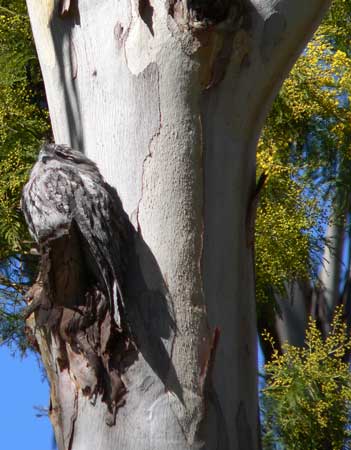 ____________________________________________________________
School of Social Sciences/Arts phone +61 (2) 612-53851
Australian National University fax +61 (2) 612-52222
ACT 0200 email
Australia www.anu.edu.au/polsci/rick
<Prev in Thread]
Current Thread
[Next in Thread>

anu frogmouths, Rick Kuhn <=
Admin
The University of NSW School of Computer and Engineering takes no responsibility for the contents of this archive. It is purely a compilation of material sent by many people to the Canberra Ornithologists Group mailing list. It has not been checked for accuracy nor its content verified in any way. If you wish to get material removed from the archive or have other queries about the list contact David McDonald, list manager, phone (02) 6231 8904 or email . If you can not contact David McDonald e-mail Andrew Taylor at this address: andrewt@cse.unsw.EDU.AU