| | | |
| --- | --- | --- |
| | canberrabirds | |
Percy comes to visit
| | |
| --- | --- |
| To: | "canberrabirds" <> |
| Subject: | Percy comes to visit |
| From: | "Martin and Frances" <> |
| Date: | Mon, 22 Aug 2005 21:08:51 -0400 |
Or perhaps one of his relatives?
Being at work early this morning I was distracted by a shape zooming diagonally across my window. It turned out to be a peregrine - thought to be one of the pair nesting on the Brooklyn bridge. Wherever it came from it was hungry as it zapped what I think was a house sparrow and went and sat on top of the Uganda Mission building for a passerine breakfast. See piccie: is this eligible for the photo gallery since peregrines are a Canberra bird.
NB: the roof top in question is about 30 metres away, and the shot was right into the morning sun, which IMHO justifies the fuzzy image.
Martin
Attachment: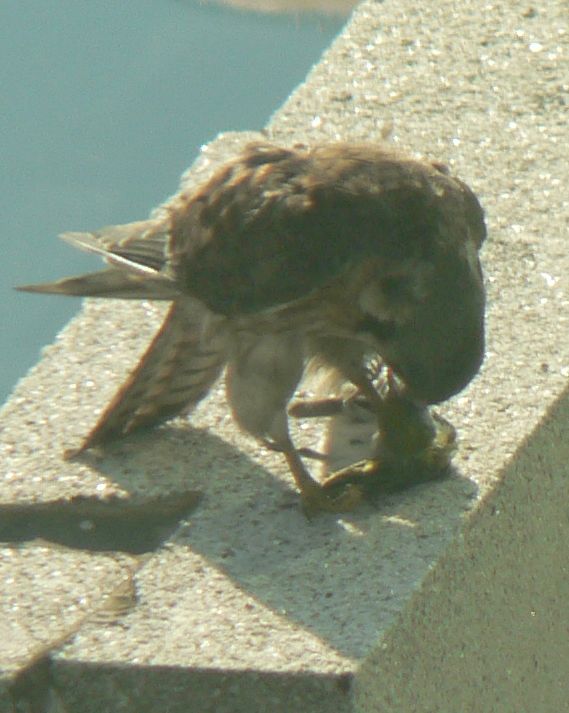 *******************************************************************************************************
This is the email announcement and discussion list of the Canberra 
Ornithologists Group. 
List-Post: <> 
List-Help: <> 
List-Unsubscribe: <> 
List-Subscribe: <>
List archive: <http://bioacoustics.cse.unsw.edu.au/archives/html/canberrabirds>
List manager: David McDonald, phone (02) 6231 8904; email 
<>
<Prev in Thread]
Current Thread
[Next in Thread>

Percy comes to visit, Martin and Frances <=
Admin
The University of NSW School of Computer and Engineering takes no responsibility for the contents of this archive. It is purely a compilation of material sent by many people to the Canberra Ornithologists Group mailing list. It has not been checked for accuracy nor its content verified in any way. If you wish to get material removed from the archive or have other queries about the list contact David McDonald, list manager, phone (02) 6231 8904 or email . If you can not contact David McDonald e-mail Andrew Taylor at this address: andrewt@cse.unsw.EDU.AU