| | | |
| --- | --- | --- |
| | canberrabirds | |
What are the honeyeaters eating?
| | |
| --- | --- |
| To: | <> |
| Subject: | What are the honeyeaters eating? |
| From: | "Geoffrey Dabb" <> |
| Date: | Tue, 2 Aug 2005 15:18:00 +1000 |
At the moment many honeyeaters are feeding on the main limbs of trees rather than - or as well as - in the outer foliage. Last week I watched the Kelly Rd YTHE for about 3 hours. In loose company with about a dozen Fuscous it was regularly visiting a spreading Apple Box where the birds visited and appeared to feed repeatedly at only the same 5 or 6 stations, each of these being on a bare limb. It looked as if they were probing at something, rather than pecking at ants for example. Whatever it was, it seemed to be the main attraction in the area, and possibly the reason for their presence.
I have several minutes video of a Red Wattlebird taken on another occasion, when the bird was frenziedly pecking at and licking a solid but sticky whitish exudate that had oozed from a rough-barked euc. In HANZAB, 'exudate' is mentioned as a food of some honeyeaters.
This morning I was at Mt Majura watching a pair of the numerous WE Honeyeaters doing the same thing. Just then along came Terry Gourlay on one of the long-distance traverses of the area for which he is noted. After our customary review of the Glossy situation, we discussed 'exudate' as a possibly important honeyeater food source in winter that may not have been sufficiently recognised as such.


Below are a couple of snaps of the WEH at the stuff.


               Geoffrey Dabb
email    :   
ph/fax   :   02 6295 3449


Attachment: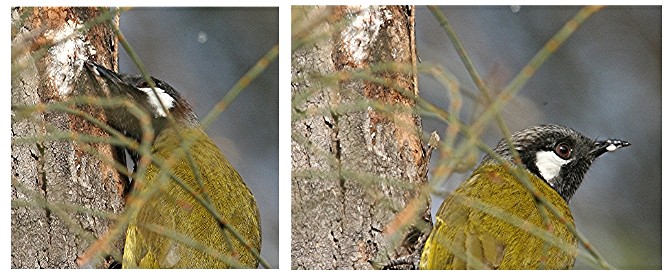 *******************************************************************************************************
This is the email announcement and discussion list of the Canberra 
Ornithologists Group. 
List-Post: <> 
List-Help: <> 
List-Unsubscribe: <> 
List-Subscribe: <>
List archive: <http://bioacoustics.cse.unsw.edu.au/archives/html/canberrabirds>
List manager: David McDonald, phone (02) 6231 8904; email 
<>
<Prev in Thread]
Current Thread
[Next in Thread>

What are the honeyeaters eating?, Geoffrey Dabb <=
Admin
The University of NSW School of Computer and Engineering takes no responsibility for the contents of this archive. It is purely a compilation of material sent by many people to the Canberra Ornithologists Group mailing list. It has not been checked for accuracy nor its content verified in any way. If you wish to get material removed from the archive or have other queries about the list contact David McDonald, list manager, phone (02) 6231 8904 or email . If you can not contact David McDonald e-mail Andrew Taylor at this address: andrewt@cse.unsw.EDU.AU