G'day Phil,
There has been a series of territorial incursions happening across the access road near the highway but I've not seen any of the birds flying high like you describe. It seems that the group to the west of the access road have lost the peninsular of land that juts to the east. I'm not sure that this argument is settled yet. the crossing point of the road for the western birds has been near the southern point of the area marked and for the eastern birds near the 'rr' in Barrine.
I'm curious to know if this is where your event occurred.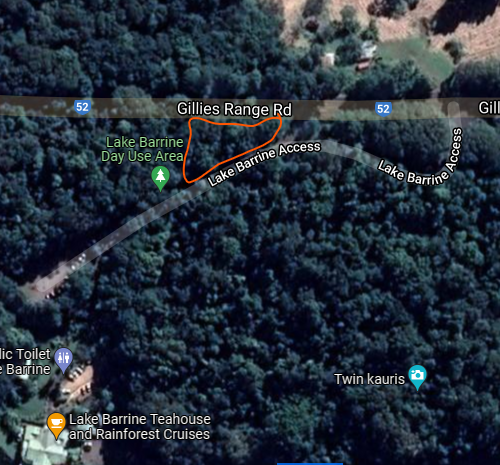 In Gadgarra I've seen a territorial dispute where two males from one team were at about five and eight metres and an unseen bird from the neighbours was at about the same height. In Boongie recently I disturbed a feeding group and they moved off along the ground fairly quickly with one bird flying in stages up to a height of about four or five metres and away from me before I lost it. My focus was on other things at the time and I did not take careful note but I think there were four birds in the group, including one begging juvenile.

Regards,
Alan

Alan's Wildlife Tours
2 Mather Road
Yungaburra 4884

Phone 07 4095 3784
Mobile 0408 953 786
http://www.alanswildlifetours.com.au
On 1/09/2021 12:00 pm, Phil Gregory wrote:

I had an odd thing happen Aug 30 at Lake Barrine- we walked towards where some Chowchillas were calling and suddenly 3 appeared flying quite high overhead and darting through some branches in a large tree maybe 15-20 m up; they may have doubled back round as they began calling again not too long after, or perhaps an intruding group got chased off. I have never seen this bird fly high at all, they are always on or very near the ground and only fly short distances, so I was quite taken aback! I suspect it was an intruding group that got seen off, as two lots were calling initially.

Regards

Phil Gregory

ornithological writer/tour leader/tour facilitator








<HR>
<BR> Birding-Aus mailing list
<BR> m("birding-aus.org","Birding-Aus");">
<BR> To change settings or unsubscribe visit:
<BR> http://birding-aus.org/mailman/listinfo/birding-aus_birding-aus.org
</HR>