| | | |
| --- | --- | --- |
| | birding-aus | |
Feather
| | |
| --- | --- |
| To: | "'Robin and Rupert Irwin'" <>, <> |
| Subject: | Feather |
| From: | "Philip Veerman" <> |
| Date: | Fri, 25 Jan 2019 19:52:45 +1100 |
Looks entirely normal for a Tawny Frogmouth feather. Probably a left inner primary. Tawny Frogmouth are among the most commonly asked about to identify isolated feathers. It should also feel soft and fluffy (a characteristic of owls and shared with frogmouths).
Philip
From: Birding-Aus [ On Behalf Of Robin and Rupert Irwin
Sent: Friday, 25 January, 2019 12:33 PM
To:
Subject: [Birding-Aus] Feather
Whoops - forgot to attach the photo.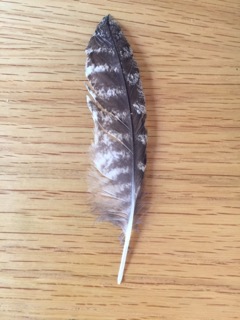 <HR>
<BR> Birding-Aus mailing list
<BR> 
<BR> To change settings or unsubscribe visit:
<BR> http://birding-aus.org/mailman/listinfo/birding-aus_birding-aus.org
</HR>

Admin
The University of NSW School of Computer and Engineering takes no responsibility for the contents of this archive. It is purely a compilation of material sent by many people to the birding-aus mailing list. It has not been checked for accuracy nor its content verified in any way. If you wish to get material removed from the archive or have other queries about the archive e-mail Andrew Taylor at this address: andrewt@cse.unsw.EDU.AU